The Raleigh Miami Beach
Miami Beach, Florida
Preferred Suites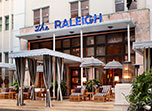 Stretching out in ample suite accommodations comes easy with rates up to 30% off. Simply book Preferred Suites at participating hotels and resorts to give yourself the extra space you need when traveling for business or pleasure. Minimum two night stay required.
TERMS & CONDITIONS
Minimum two-night stay required. Offer is subject to availability, blackout dates may apply. All reservations must be guarenteed by credit card at time of booking.
There are no special offers currently available.