Union Station Hotel Nashville, Autograph Collection
Nashville, Tennessee
In Love In Nashville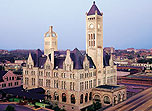 This Nashville Hotel Package Includes: Deluxe accommodations with turn-down service American breakfast for 2 guests daily at Carter's or room service Chocolate-covered strawberries 1 bottle of champagne
Cancelling Your Reservation
You may cancel your reservation for no charge until (48 hours before arrival).
Please note that we will assess a fee of room rate plus tax USD if you must cancel after this deadline.
If you have made a prepayment, we will retain all or part of your prepayment. If not, we will charge your credit card.
This fee equals 1 night of your room charge plus tax (for the first night of your reservation).
There are no special offers currently available.