21c Museum Hotel Nashville by MGallery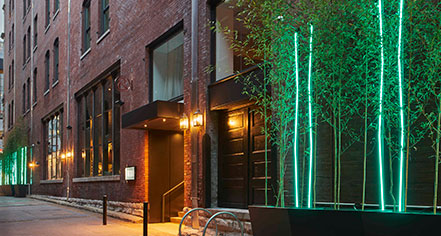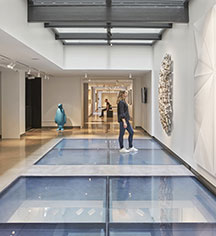 History
This wonderful historic hotel was originally the Gray & Dudley Hardware Company Building for many years. The corporation first appeared in the 1890s, when J.M. Gray and his son merged their prominent local business together with that of brothers J.H. Dudley and R.M. Dudley.
Already establishment hardware retailers in Nashville, the Grays and Dudleys desired to elevate their prosperity to new heights by uniting their economic endeavors into one pursuit. As such, the group decided to erect a new building from which they could market their heavily sought-after goods. Selecting a location near the city's bustling Bank Alley, the men constructed a beautiful seven-story brick structure for their new business. The group hired the local firm, Thompson, Gibel, & Asmus, to create the building's architecture, which they modeled in the likeness of the Chicago Commercial School's Beaux Arts architectural style.
When the Gray & Dudley Hardware Company debuted in 1900, it quickly emerged as one of the American South's most preeminent hardware retailers. The company specialized in selling its own high-quality manufacturing tools that it manufactured from several factories situated around Nashville. The business offered more than just hardware though. Within a decade of opening, its fabulous catalog featured a variety of products ranging from clocks to sterling silverware. Everything from tricycles, doll carriages—even wagons—appeared in the company's storefront. The popularity of its wares became so significant that many traveling salesmen soon began selling the company's goods throughout the nation.
Despite its success, the Gray & Dudley Hardware Company eventually moved out of its building along Second Avenue in 1942 for a much larger location. And while the company continued to experience great fortune, the Gray & Dudley Hardware Company Building gradually lost its luster. The erstwhile warehouse subsequently fulfilled a number of different functions for the remainder of the century. When 21c Museum Hotels acquired the site during the 2010s, it restored the building to its former glory. Fully renovated, the historic Gray & Dudley Hardware Company Building is now the glamorous 21c Museum Hotel Nashville by MGallery. Since 2017, the building has operated as both a fantastic boutique hotel and a terrific art gallery filled with the finest contemporary artwork.
21c Museum Hotel Nashville by MGallery, a member of Historic Hotels of America since 2019, dates back to 1900.