21c Museum Hotel Oklahoma City by MGallery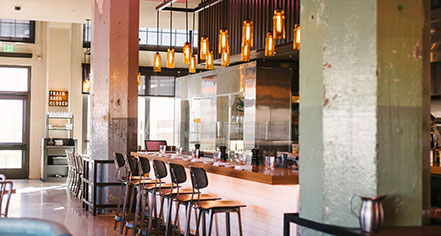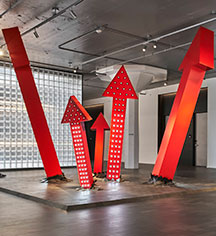 Overview
The 21c Museum Hotel Oklahoma City by MGallery would not technically exist today had it not been for the Ford Motor Company's groundbreaking Model T. While the building is now a luxurious hotel listed on the National Register for Historic Places, it was once a gigantic manufacturing plant that created the legendary automobile in large quantities. At the beginning of the twentieth century, the Model T was rolling off the assembly line in the thousands. The car's durability and affordable cost made the vehicle an overnight sensation among American consumers. To capitalize on this success, Henry Ford began constructing a series of regional assembly plants that could quickly construct the Model T from predeveloped kits. Twenty-four additional factories soon sprang up throughout the United States during the 1910s, including this massive complex in the center of Oklahoma City.
Today, the 21c Museum Hotel Oklahoma City takes full advantage of the scale and openness of its historical setting. The New York City-based architecture firm Deborah Berke Partners sought to create a contemporary interpretation of the building's industrial heritage. Inspired by the assembly line and technological advances of the automotive industry, the design team restored historical features and complemented them with contemporary finishes and furnishings. Every one of the 135 loft-like guestrooms and suites at the 21c Museum Hotel by MGallery contain restored architectural features that embody the building's rich industrial heritage, including large steel windows. Guestroom amenities include complimentary WiFi, 43" HDTV, Nespresso® coffee machine, original artwork, and designer bath products. The hotel features more than 14,000 square feet of art-filled exhibition space in Oklahoma City's West End.
21c Museum Hotel Oklahoma City by MGallery, a member of Historic Hotels of America since 2019, dates back to 1916.
The famed industrial architect Albert Kahn designed the Oklahoma City Ford Motor Company Assembly Plant. He created over 1,000 different buildings for the Ford Motor Company during his lifetime.
Original Property Opened: 1916
Historic Hotels of America toll-free reservations number +1 800 678 8946

Location
900 W. Main Street
Oklahoma City, Oklahoma 73106


Check-in time: 4:00 p.m.
Check-out time: 11:00 a.m.



Hotel Amenities & Policies
Accessible Rooms: Accessible rooms are available. Please notify request at time of booking.
Age Requirements: Guests are required to be 21 years or older with photo identification to reserve a room and check-in.
ATM: Located in hotel lobby.
Cancellation Policy: Cancellations must be made by 4:00 p.m., 24 hours prior to arrival.
Cribs and Pack-n-Plays: Available upon request; complimentary.
Early Check-In/Late Check-Out: Depending upon availability; fee applies.
Hotel/Resort Fees & Taxes: 13.875% per room, per night.
Parking: Valet parking available for $28 per night
Payment: Visa, MasterCard, Amex, and Discover are accepted.
Pet Policy: Pets up to 50 pounds allowed. A one time $75 cleaning fee applies.
Rollaways: Available upon request; $30 per night.
Smoking Policy: 100% non-smoking property.
The above list may not be comprehensive and information is subject to change without notice. Fees and deposits may not include tax. Taxes, fees, deposits, and policies are subject to change without notice.