21c Museum Hotel Oklahoma City by MGallery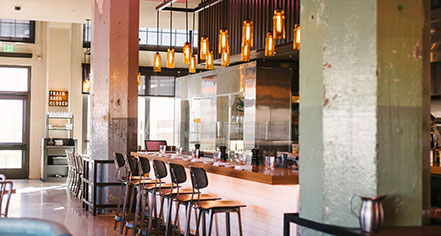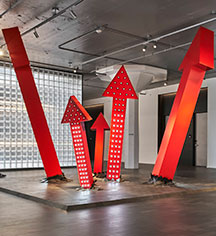 Local Attractions
The 21c Museum Hotel Oklahoma City's central location in downtown Oklahoma City puts guests within minutes of many of different activities, several of which are just a short walk away. Just over a decade ago, this section of downtown was little more than a neglected warehouse district left over from the Great Depression and suburban expansion. But thanks to a massive revitalization effort in the 1990s, Bricktown is now Oklahoma City's entertainment hub and nightlife destination.
Cox Convention Center
The Cox Convention Center boasts a massive 1 million square feet of flexible and dynamic event space. This versatile venue covers four city blocks and contains 100,000 square feet of exhibit space, 21 meeting rooms, a 15,000 seat arena, and a 25,000 square foot ballroom.
Oklahoma City Museum of Art
The OKCMOA serves more than 130,000 visitors a year from all over the world. OKCMOA is accredited by the American Association of Museums and holds collections that cover 500 years of arts and artifacts, including a growing exhibit of contemporary art and a full collection of Dale Chihuly glass sculptures. The museum includes the Museum School, a repertory cinema, store, cafe, and rooftop terrace event area.
Civic Center Music Hall
Originally called the Municipal Auditorium, the Civic Center Music Hall has been delighting audiences with the performing arts since 1937. After a 3-year renovation project, the historic Civic Center reopened in 2001 with major upgrades that include a multi-story atrium, balconies, box seats and suites, a hydraulic orchestra pit, and accommodations for major theatrical, dance and music groups.
Oklahoma City National Memorial & Museum
On April 19, 1995 at 9:02 AM, a massive bomb attack tore apart the north side of the Alfred P. Murrah Federal Building in Downtown OKC, killing 168 people, including 19 children under the age of 6. On the bombing's fifth anniversary, the Oklahoma City National Memorial was dedicated at the Murrah Building site, and exactly one year later, the 30,000 square foot Memorial Museum was dedicated and opened. Together, the memorial and museum tell the emotional story of the Oklahoma City Bombing to 350,000 people each year.
Myriad Botanical Gardens & Crystal Bridge Tropical Conservatory
The Myriad Botanical Gardens is a 17-acre outdoor oasis of lush vegetation and rolling hills right in the middle of Downtown Oklahoma City. The grounds underwent major renovations before reopening in 2011 with several new features, including spacious entry plazas, a grand event lawn & pavilion, Dog Park, seasonal activity plaza, and magnificent water features. The renovation included a restoration of the Crystal Bridge Tropical Conservatory, a 224-foot long dual-ecosystem habitat that supports 2,000 varieties of plant life.
Chickasaw Bricktown Ballpark
"The Brick" is a 13,066 seat ballpark and home field of the Oklahoma City RedHawks, the AAA affiliate of the House Astros major league baseball team. The stadium frequently hosts the Big 12 Baseball Tournament and is home to two Bedlam Series games between the OU and OSU baseball teams.
Bricktown Canal
Several of Bricktown's favorite restaurants, bar and venues are located up and down the Bricktown Canal. Visitors can easily stroll the length of the canal while taking in the sights and experiencing the Bricktown vibe. Or if you really want to get a feel for the history of this converted warehouse district, Bricktown Water Taxi will take you on a fun, informative journey through the heart of Bricktown.
Oklahoma River
The Oklahoma River is a 7-mile stretch of the North Canadian River just south of Downtown OKC that has been transformed into a recreational haven of landscaped areas, trails and facilities. The north and south banks are framed by a network of running, biking, and walking trails traverse the length of the river. The Oklahoma River is ideal for man-powered boats such as canoes, kayaks, and rowing sculls, and has received recognition worldwide as a training site for Olympic water sport athletes.