Airlie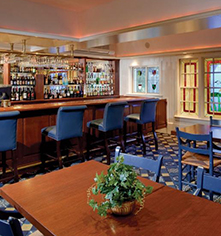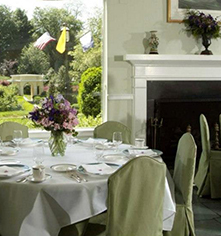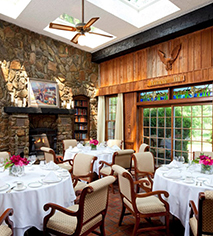 Dining
Guests are invited to indulge in the culinary creations of Culinary Director Jeff Witte and his team. The gourmet menus are prepapred thoughtfully, using locally sourced and sustainable ingredients as the kitchen works closely with expert gardeners in Airlie's Local Food Project. Ingredients are harvested in Airlie's own organic gardens as well as from over 30 farms from around Virginia. Choices offered vary from casual to an upscale dining atmosphere or gourmet on-demand for guests to enjoy anywhere on the property.
Garden Bistro
Modern, locally sourced Virginian cuisine in an upscale setting. The Garden Bistro is one of the newest restaurants at Airlie and has quickly become one of the best restaurants in Warrenton. The menu at the Garden Bistro is inspired by sustainable, locally sourcecd ingredients from local family farms in Culpeper, Sperryville, and also in Warrenton.
Menu
Hours of Operation
Brunch
Sunday 10:30 AM - 2:30 PM
Dinner
Thursday, Friday, & Saturday 5:30 PM - 9:30 PM
Cocktail reception with cheese and charcuterie in Library begins at 5:00 PM
The Whistling Swan Pub
Cozy up next to the fireplace with a drink and enjoy the widescreen television, billiards, foosball, karaoke, Wii, darts, or a delicious meal featuring locally-sourced and organic ingredients. The pub is located next to the outdoor pool, making it the ideal place to grab a drink or food and lounge poolside.
Hours of Operation
Daily 5:00 PM - 11:30 PM
The Airlie Dining Room
Event-planners and culinary staff work closely together to present expertly-prepared meals for large groups, conventions, and meetings. Overlooking the formal gardens and Lake Stanley, guests are treated to scenic views with their scrumptious meal.
Hours of Operation
By reservation for special events only
Gourmet On-Demand
Guests can have upscale, creative-yet-rustic cuisine prepared and delivered property-wide made with locally sourced, sustainable ingredients. Delivery areas on-site include sleeping rooms, pub, pool-side, LFP garden, and all other common areas.
Culinary Director Jeff Witte
A member of the Airlie team for over a decade, Jeff's passionate for local ingredients has earned him acclaim as a respective leader in the Piedmont's Slow Food movement. Using innovative sourcing, Jeff sources ingredients directly from over 35 regional farms and works closely with Airlie's own Local Food Project to plan, grow, and utilize fresh organic vegetables, fruits, herbs, and flowers. Jeff's enthusiasm for environmental stewardship is infectious, spreading from the kitchen to all areas of the property and fostering a strong environmental ethos in all parts of Airlie's operations.
Executive Chef Jeremy Anderson
Working with Culinary Director Jeff Witte, Executive Chef Jeremy Aderson is committed to developing a sustainable, local, and organic culinary program second to none and creating menus for one of the best restaurants in Northern Virginia. A member of the Airlie team for over nine years, Anderson's passion for educating his team as well as Airlie guests on the "simple sophistication" of great meals has been the foundation for his consistent delivery of unique food presentations of incomparable quality. Anderson's culinary style is centered on local and seasonal ingredients, either grown at Airlie's own Local Food Project or provided by local farmers.