Airlie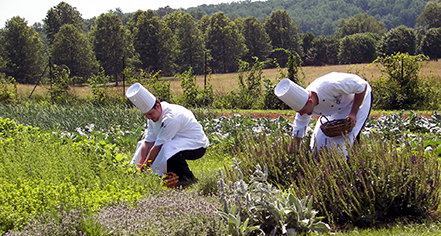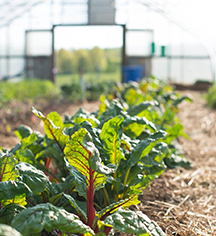 Berkshire Farm & Organic Garden
Airlie Berkshire Farm
Just as Airlie's founder, Harry C. Groome, intended, Airlie Berkshire Farm signifies a return to its agricultural roots. The 95-acre working farm produces vegetables for the restaurant's hyperlocal cuisine, and to support local food initiatives. A majority of the land is devoted to raising Berkshire pigs and Angus cattle, producing 12,000 pounds of beef annually for Airlie guests.
Airlie's Organic Garden
Founded in 1998, the organic garden is the most delicious aspect of the hotel's green initiatives. The chefs and gardeners work closely together to plan crops around the seasonal menus prepared in the kitchen. A passive solar hoop house in the garden enables fresh produce year-round. Guests can enjoy the fruits, vegetables, herbs, and flowers grown in the garden at Harry's or as part of a special event catered by the culinary team.
In addition to supplying fresh produce and herbs for the kitchens, the four-acre organic garden also educates guests about sustainable agriculture and local food systems. Upon request, Airlie offers educational tours of the garden that are fun for all ages. Guests will learn what's in season, how their food is grown, and will discover fresh flavors with Airlie's master gardeners.
Airlie's organic garden is also home to an apiary of "Enviro-bees," a colony of honeybees that provide honey for the kitchen, pollination for the crops, and the opportunity to conduct vital research on local Piedmont bee populations.
Airlie organic garden tours are a perfect way for groups or families to take a break in the great outdoors. Al fresco tastings of appetizers prepared with organic ingredients from the gardens served with local wine can be arranged for groups.