AKA Sutton Place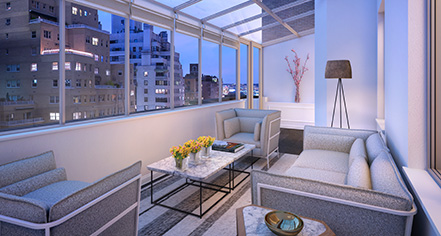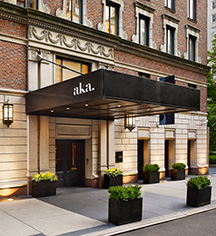 History
AKA Sutton Place occupies a colorful place in New York history. Formerly known as the Sutton Hotel, it was a nexus of literary activity in the 1930s. Nathanael West worked on his expressionist black comedy Miss Lonelyhearts, and Dashiell Hammett completed The Thin Man in the hotel's Diplomat's Suite. Other writers in residence during this period included West's friends S.J. Perelman, Edmund Wilson, Lillian Hellman, and Erskine Caldwell. Originally opened in 1929, the building initially underwent a full renovation in 2007, and was subsequently updated in 2011. The property was noted for its extended-stay services, which continues to this day.
The Sutton Place neighborhood, bordered by the East River, East 53rd and East 59th Streets, serves as the gateway to Manhattan's Upper East Side. The Madison Avenue boutiques and fine neighborhood restaurants are all within close walking distance. Also nearby are architectural landmarks such as Lever House, The Lipstick Building, and Seagram's Building, as well as St. Patrick's Cathedral, Manhattan Art and Antiques Center, and the Municipal Art Society.
As part of the hotel's recent renovation, AKA Sutton Place offers guests an exclusive amenity, only known by word of mouth: luxe wine lockers. AKA caters to travelers who are wine enthusiasts by providing the space to appropriately store specialty wines purchased during a guests' stay.

AKA Sutton Place, a member of Historic Hotels of America since 2016, dates back to 1929.