AKA Times Square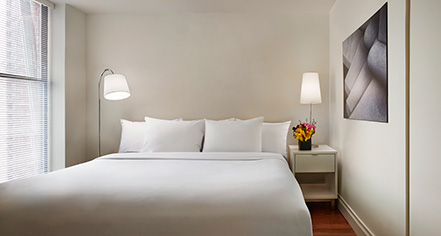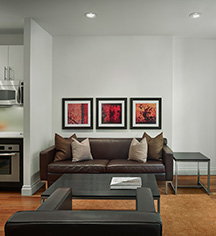 Local Attractions
Visit some of New York City's most celebrated cultural attractions:
Times Square
Times Square is a bustling area in Midtown Manhattan, known for its many Broadway theatres, cinemas, delectable dining, and copious bars and lounge. It is the world's second most visited tourist attraction, behind the Las Vegas Strip, and draws an estimated 50 million visitors annually. Times Square is the site of the famous annual New Year's Eve ball drop.
Bryant Park
The site of winter ice skating at The Pond, free summer movies on the lawn, and endless meals and meetings at its tables, Bryant Park serves its role well as a centrally located Manhattan park. Just blocks from Times Square and the theatre district and mere feet from the New York Public Library, the park is an ideal resting spot for the thousands of tourists and residents who pass by its boundaries each day.
Top of the Rock Observation Deck
This observatory on top of Rockefeller Center, with an ocean-liner style design, offers breathtaking city views. Feel the energy, wonder and beauty of New York City day or night from 70 stories up. Use the binoculars to explore the unobstructed views through glass panels on the 67th and 69th floors, and in the open air on the 70th floor. Marvel at Radiance, a breathtaking wall of glass panels, mouth-blown glass, crystal clusters, and fiber-optic lighting created by Swarovski.
Rockefeller Center
The famous Rockefeller Center in Midtown Manhattan is an Art Deco NYC landmark. Spanning 22 acres and featuring 19 commercial buildings in New York, Rockefeller Center is one of the most popular attractions in New York City. A beautiful New York destination all year long, the Rockefeller Center is home to numerous NY events, including the lighting of the famous Rockefeller Center Christmas Tree, which is broadcasted live on TV around the world each year.
Empire State Building
The Empire State Building is one of the most iconic landmarks in a city full of them. The tallest building in New York City has appeared in over 90 movies, and is the key piece of the NYC Skyline. A feat of true American accomplishment, the Empire State Building stands 1,454 feet tall and is currently the 9th tallest building in the world and the 4th tallest freestanding structure in the Americas.
Washington Square Park
A marsh. A cemetery. A parade ground. A gathering spot for avant-garde artists. A battleground for chess enthusiasts. A playground for canines and children. Washington Square Park has served various roles for its community throughout the years, adapting to meet its needs. Well-known for its arch, honoring George Washington, the man for whom the park is named, and its fountain, the arch's elder by 43 years and a popular meeting spot, Washington Square Park also houses several other monuments and facilities.