AKA Wall Street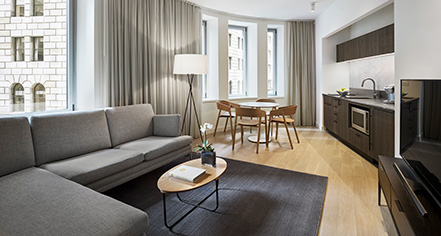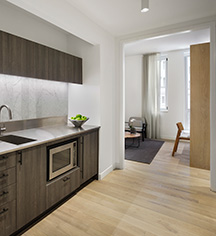 History
Built in 1907 as the headquarters for the Royal Insurance Company by architect Howells & Stokes, this 17-story commercial office was designed in a Classical with English Baroque style. Its address at 84 William Street is one of the finest locations in Lower Manhattan, as it faces the Louise Nevelson Plaza and is catty-corner to the Federal Reserve Bank of New York. The insurance company moved out in 1927 to a larger, Neoclassical, wedding-cake-style building, designed by Starrett & Van Vleck, at 150 William Street.
William Street is one of the oldest streets in Manhattan and can be seen in the 1660 Castello Plan of New Amsterdam. The street is named after William Beekman, who arrived in New Amsterdam in 1647, and later went on to serve nine terms as mayor. The area was declared a historic district in 1996 by the New York City Landmarks Preservation Commission.
Before its recent renovation, AKA Wall Street served as a collegiate residential hall shared by Pace University and The New School. The transformation to AKA Wall Street, led by noted architect Edward Asfour of Asfour Guzy Architects in New York, added two floors to the original 17. Asfour also designed a.kitchen+bar at AKA Rittenhouse Square, the AKA Sutton Place suites, Blue Hill at Stone Barns on the Rockefeller Estate in Tarrytown, and Blue Ribbon Sushi on 58th.
Asfour preserved Howells & Stokes' sculptured, 1907 façade of rusticated white marble, terra cotta, and brick, while reconfiguring the interiors to accommodate expansive suites. The entrance, on the prime corner of William Street and Maiden Lane, is topped by mythic creatures (a lion and unicorn) clutching a gilded clock, which the developer painstakingly restored.

AKA Wall Street, a member of Historic Hotels of America since 2016, dates back to 1907.