Amway Grand Plaza, Curio Collection by Hilton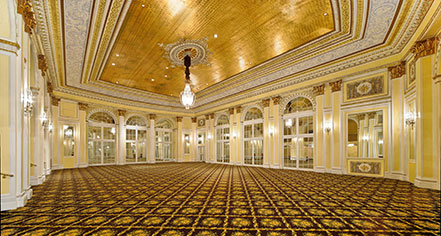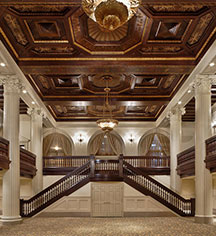 Meetings & Groups
Convenient, attentive, and luxurious, Amway Grand Plaza, Curio Collection by Hilton accommodates any function and agenda. Choose from 42 individually decorated rooms and reception areas within the hotel, including the impressive and distinctive ballrooms.
Host to some of the most noteworthy events in the city, the Ambassador Ballroom is the largest and most versatile ballroom at Amway Grand Plaza. Its contemporary styling is accented by high ceilings, beautiful sconces, and distinctive chandeliers. The soft colors and ambient lighting lend a special elegance to every occasion. The Ambassador Ballroom can accommodate up to 600 seated guests and 1,000 standing.
For nearly a century, the Pantlind Ballroom has dazzled guests with its eye-catching gold-leaf ceiling, crystal chandelier, and intricately detailed fixtures. The Old World elegance of this European-styled room has hosted countless wedding guests, notable visitors, and Presidents. The Pantlind Ballroom can host up to 220 guests for a seated dinner and 350 guests for standing receptions.
Showcasing the grandeur of a bygone era, the Imperial Ballroom is a stunning two-tiered room that features a mezzanine, grand staircase, eight massive columns, and ornate wood ceilings. This former bank is an impressive setting for wedding receptions, fund raisers, or other special events and can accommodate up to 150 for a seated dinner and 250 for standing receptions. The Imperial Ballroom was the Old National Bank from 1853-1953. It was then changed into the National Bank until the renovations took place in 2000 to make it the regal ballroom that it is today.
The magnificent domed ceiling of the Gerald R. and Betty Ford Ballroom gives this bright, airy space the illusion of a distinguished round chamber. Large Georgian columns, elegant crown moldings, mirrored wall treatments, and gold valances adorn virtually every square foot of this beautiful and historic room. The GRF Ballroom can seat 130 guests and 225 guests for standing receptions.