Battle House Renaissance Mobile Hotel & Spa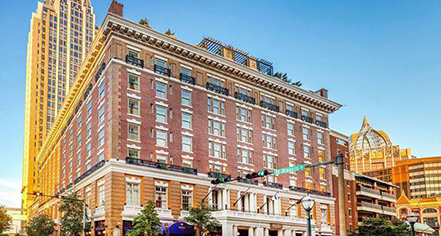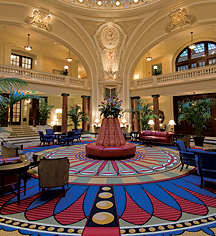 On Site Activities
As you approach, tranquil sounds of running water fill your ears. Positive energy flows through the air, perhaps in your own anticipation of what's to come.
This beautiful 10,000 square foot spa features eight treatment rooms including two facial, four massage, and 2 couples with Swiss showers. The facility also has separate men's and women's quiet rooms with eucalyptus steam and whirlpools. The women's quiet room features a beautiful Zen fire pit. Use of the spa facilities is complimentary with a booked service; without a service the spa facility is available to guests for $25 a day.
There is a full service salon, beautiful outdoor pool, whirlpool, bar, and state of the art fitness center.
Spa guests must be at least 16 years old to use the Fitness Center, fitness classes, body therapies and massage services.
The Spa, Spa Salon and Fitness Center are non-smoking facilities.
To preserve the Spa's tranquil environment, the use of cellular telephones and pagers is prohibited.
· SPA HOURS ·
The spa is open daily 8am to 8pm with the first service beginning at 8am and the last service beginning at 7pm. (Times may vary by season and holidays)
· SPA FITNESS CENTER ·
The Spa Fitness Center is open 24 hours daily (times may vary by season and holidays)
· SPA OUTDOOR POOL ·
The Spa outdoor pool is open daily 6am to 11pm. (Times may vary by season and holiday). The pool is not lifeguard supervised and swimming is at your own risk. Children under the age of 16 must be supervised by an adult.
· SPA SALON ·
The Spa Salon is open 8am to 8pm Monday to Saturday: Sunday 8am to 6pm.
(Times may vary by season and holidays)
· SPA BOUTIQUE ·
Continue your spa experience at home by shopping from a full line of skin care products, aromatherapy lines, candles, music and wonderful gifts to delight the senses. The Spa Boutique is open daily 8am to 8pm (times may vary by the season and holidays)
· SPA CUISINE ·
Delicious Spa cuisine is available upon request.
· GIFT CARDS ·
Gift cards may be purchased by dollar amount. Please see our spa menu for full details of treatment descriptions.
· RESERVATIONS & RATES ·
Guests are encouraged to arrange spa appointments at the time of making room reservations.
Please call 251.338.2000. All Spa services are subject to availability. Please arrive 30 minutes prior to your service to ensure time to check-in, change into the provided spa robe and slipper, and enjoy the spa facilities.
· CANCELLATION POLICY ·
Please note that cancellations for single services must be received eight hours prior to appointment time or the full service fee is charged. Package services must be cancelled 24 hours prior to appointment time. Group reservations
are subject to contracted agreement. All no-shows will be charged to full value of the service.
FREQUENTLY ASKED QUESTIONS
· How early should I arrive for my spa appointment? ·
Please arrive a minimum of 30 to 45 minutes before your first service or 15 minutes before your first salon service. By arriving early, you will be able to check in, relax and fully enjoy your spa experience. You may wish to shower, steam,
whirlpool or even work out in our Fitness Center prior to your appointment. Please remember that your appointment time has been scheduled just for you, and if you arrive late, your service time will be shortened. Should this happen, we
will do our best to accommodate you, but out of respect to all guests, we cannot guarantee your full service.
· WHAT DO I NEED TO BRING? ·
The Spa at the Battle House provides robes, spa sandals and a private locker for your personal belongings. If you plan to work out, please bring appropriate workout attire and footwear. Swimsuits (optional) may be worn for wet service, and of course, in the swimming pool. We highly recommend that you do not bring jewelry or any other items of great value.
· DO I HAVE TO DISROBE COMPLETELY FOR MY SERVICE? ·
Our therapists have been trained to respect the privacy of our guests. During each service, the areas of the body not involved will be covered. If you feel more comfortable, you may disrobe to your comfort level so that you can relax and enjoy you service.
· IS IT POSSIBLE TO REQUEST A MALE OR FEMALE THERAPIST? ·
The Spa at the Battle House will fulfill this request whenever possible to make your visit pleasurable and relaxing.
· IS IT OKAY TO VISIT IF I AM PREGNANT OR HAVE A MEDICAL CONDITION? ·
Absolutely! Many treatments are available for the mother-to-be, and our professional staff will advise you on which service may not be appropriate. Please inform our staff when you make a reservation if you are pregnant,
have high blood pressure, allergies or any other condition we should know about.
· IS GRATUITY INCLUDED IN THE PRICE OF THE SERVICE? ·
Gratuity is not included in the price of an individual service. In appreciation to the staff for outstanding service, gratuities may be given at your discretion. For your convenience, a gratuity of 20% will be added to all spa package and group appointments.