Battle House Renaissance Mobile Hotel & Spa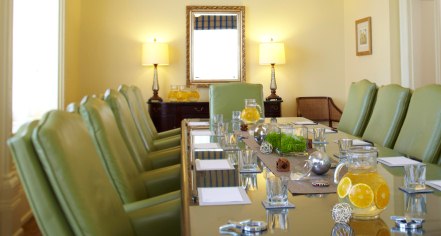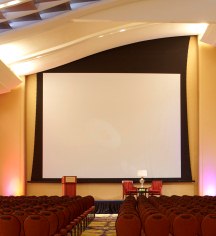 Meetings & Groups
Located in historic downtown Mobile and offering over 26,000 square feet of meeting facilities, the Battle House is one of the premier hotels in the Southeast. Ideal for corporate retreats, workshops, sales meetings and client or investor meetings, the meeting rooms at the Battle House and its conference facilities offer spectacular views, inspire creativity, and impress corporate associates and clients alike.
View The Meeting Planners Guide
Function Space
The Battle House offers over 26,000 square feet of flexible meeting facilities & function space, including 20 meeting rooms and a spectacular balcony that is the best place for a client reception to watch a Mardi Gras Parade. The Hotel features the latest in audio visual technology and an on-site business center. The Moonlight Ballroom is 9,600 square feet and can accommodate a 900 person reception or a 600 seated dinner. The ornate Crystal Ballroom has been a elite historic wedding venue and gala center for more than three centuries.
Banquets and Special Events
The Battle House provides one-stop coordination for all group dining needs. From casual to elaborate banquets at the Battle House, themed parties to custom menus, the hotel's staff manages all of the details. Our Audio Visual department will complete the package with custom decor, lighting and entertainment.
Event Space Chart:
| | | | | | | | | |
| --- | --- | --- | --- | --- | --- | --- | --- | --- |
| | | | | | | | | |
| Crystal Ballroom | 4,180 | 96 x 44 x 25 ft | 75 | 175 | 170 | 250 | 40 | - |
| Crystal Ballroom Prefunction Area | 1,914 | 87 x 22 x 14 ft | - | - | - | 100 | - | - |
| Crystal Ballroom Terrace | 1,311 | - | - | - | - | - | - | - |
| Moonlight Ballroom | 9,628 | 116 x 83 x 32 ft | 500 | 750 | 550 | 850 | - | - |
| Moonlight Ballroom - Salon A | 4,452 | 84 x 53 x 32 ft | 200 | 350 | 180 | 300 | 50 | 40 |
| Moonlight Ballroom - Salon B | 2,490 | 83 x 30 x 32 ft | 140 | 175 | 120 | 200 | 40 | 30 |
| Moonlight Ballroom - Salon C | 600 | 30 x 20 x 32 ft | 30 | 50 | 30 | 48 | 20 | 20 |
| Moonlight Ballroom - Salon D | 1,320 | 40 x 33 x 32 ft | 70 | 75 | 50 | 90 | 40 | 30 |
| Moonlight Ballroom - Salon E | 660 | 30 x 22 x 32 ft | 30 | 50 | 30 | 48 | 20 | 20 |
| Moonlight Ballroom - Prefunction Area | 4,760 | - | - | - | - | 150 | - | - |
| Leinkauf | 768 | 32 x 24 x 14 ft | 24 | 40 | 30 | 30 | 20 | 15 |
| Campground | 345 | 23 x 15 x 12 ft | - | - | - | - | 8 | - |
| DeTonti Square | 345 | 23 x 15 x 12 ft | - | 10 | - | - | 8 | - |
| Oakleigh Garden | 360 | 24 x 15 x 12 ft | - | - | 50 | 75 | 20 | - |
| Church Street | 280 | 20 x 14 x 12 ft | - | 10 | - | - | 8 | - |
| Ashland Place A | 280 | 14 x 20 x 12 ft | - | - | - | - | - | - |
| Ashland Place B | 390 | 13 x 30 x 12 ft | - | - | - | - | 14 | - |
| Old Dauphin Way | 350 | 25 x 14 x 12 ft | 12 | 30 | 20 | - | 12 | 10 |
| Midtown | 350 | 25 x 14 x 12 ft | 20 | 30 | 20 | 20 | 20 | 15 |
| Bienville Square | 1,200 | 40 x 30 x 10 ft | 40 | 50 | 50 | 50 | 40 | 24 |
| Tree House | 1,716 | 39 x 44 x 12 ft | 50 | 100 | 70 | 75 | 50 | 26 |