Blackburn Inn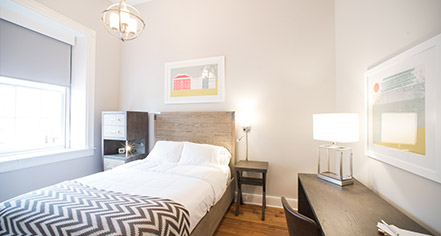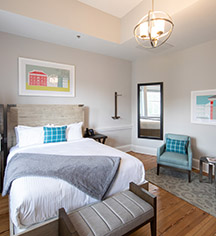 Accommodations
The Blackburn Inn features 49 well appointed guestrooms located in the wonderfully restored hotel building. From the hotel, there is easy access to the downtown shops, bars, restaurants, and trails. The Blackburn Inn showcases local and regional artisan work. Each room is a merging of modern and historic expressions – with inspiring touches from vaulted ceilings to intricate molding and original hard pine floors.

Three of the premiere-level guestrooms also feature luxurious soaking tubs while all rooms include luxury bedding and amenities. The building has been lovingly restored over a 12 year period, and maintains its signature spiral staircase that leads to a cupola where guests can enjoy a 360 degree view of the grounds.
Luxurious amenities fill these accommodations, such as complimentary toiletries, daily housekeeping, and a flat panel television with access to cable TV service. Guests can also enjoy a complimentary light European continental breakfast, featuring breakfast bites from locally-known Reunion Bakery. The historic, Jeffersonian-style building is a destination that entices both leisure and business travelers alike.
Accommodation Types Available
Cozy Queen Room – one queen-size bed

Deluxe Queen Room, Accessible – one queen-size bed

Deluxe Queen Room – one queen-size bed

Queen Suite – one queen-size bed and sitting area with a sofa bed

Deluxe Queen Room with Soaking Tub – one queen-size bed
Guestroom and Suite Amenities
Bath toiletries (complimentary)
Daily housekeeping
Desk
Flat-panel TV with cable service
Hair dryer
Iron and board
Newspaper (complimentary)
WiFi (complimentary)