Boone Tavern Hotel of Berea College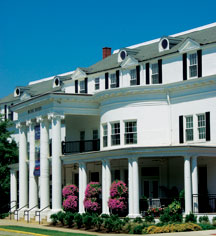 Local Attractions
The historic community of Berea, situated where the rolling bluegrass horse farms of Central Kentucky meet the Appalachian foothills of eastern Kentucky, is a favorite travel destination. In addition to fine dining and quaint accommodations at Boone Tavern, there are a number of appealing activities in Berea:
Berea has a strong tourism and welcome center. The community has been featured by many national magazines, such as Southern Living, which named Berea a "Favorite Southern Small Town." Travelers from all around the world come to historic Berea.
Berea, designated as the Folk Arts and Crafts Capital of Kentucky by the state legislature, is the site of the Kentucky Artisans' Center which showcases fine Kentucky-made crafts of all types.
A host of artisans and craftspersons who demonstrate their skills in shops, studios, and galleries throughout the community.
Musical and outdoor activities abound. For example, Renfro Valley, a musical venue just south of Berea's city limits, features performances by nationally recognized country music stars.
More than 7,700 acres of near-by forest land, owned by Berea College, have developed hiking trails open to the public. The woodlands are especially beautiful with spring blooms and fall color. Historic Berea is readily accessible by car, situated between two local exits on Interstate-75.
Folk dancing (English, Appalachian and Contra) is available on most Friday evenings on the Berea College campus. Folk Dancing (Contra dancing), featuring regional and national callers and musicians each month, is also available just a few blocks away from Boone Tavern at the Acton Folk Center in Berea.
Historic Berea College, the first interracial and coeducational college in the south (pre-Civil War), offers many activities for Boone Tavern guests. Student-led tours of its historic campus buildings and student craft industries, which produce high quality broom craft, pottery, ironwork, weaving, and woodcraft, including furniture and gift items, are available at the Visitors Center on College Square. An Appalachian art gallery showcases regional arts and culture. The College also is the site of the Dimitrie Berea Art Gallery containing a fabulous collection of artworks by this Romanian-born painter. Other campus art galleries include traveling exhibitions and the College's Masterworks gallery, showcasing artworks from the College's permanent collection featuring a host of international and American artists such as Gilbert Stuart, Whistler, Rembrandt, among others. Berea College hosts many concerts, recitals, carillon performances, art exhibitions, convocations, and plays that are open to the public, most at no charge.
Berea is a key stop along the Kentucky Scenic Byways and also is the beginning terminus for the Kentucky Country Music Highway.
Berea is near other central Kentucky points of interest, making Boone Tavern an ideal base for visiting destinations such as Shakertown (the Shaker Village at Pleasant Hill, Ky.) the bluegrass thoroughbred horse farms of Lexington, Ky., and state resort parks such as Cumberland Lake.