Boston Park Plaza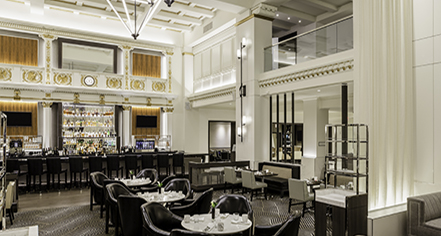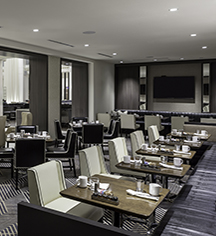 Dining
The Boston Park Plaza Hotel boasts some of Boston's best restaurants, all within the walls of the structure itself. The Boston Park Plaza continues to be one of Boston's premier dining destinations with restaurants such as McCormick and Schmick's, Smith and Wollensky, and STRIP by Stega. Discover one or all of these six restaurants in Boston's top notch dining scene.
Explore the Dining Experiences at Boston Park Plaza Hotel
Off the Common
This vibrant lobby restaurant is destination for dining throughout the day. Choose from an extensive buffet for breakfast or delicious a la carte items, such as our Lobster Benedict. Lunch offers a diverse and delectable menu, from soups and seasonal salads to lobster rolls, sandwiches, burgers, and more. And dinner provides guests with a taste of New England.
STRIP by Strega
An upscale restaurant catering to those who are looking for an outstanding locale for a business meeting or for those looking for a place to wind down after a day at work. The kitchen is lead by culinarian and James Beard Presents Chef Farouk Bazoune and serves modern, Italian steakhouse cuisine which includes homemade pastas, fresh seafood, reinterpreted side dishes and specialy steaks.
Au Bon Pain
This bakery-come-sandwich shop is a favorite for guests to stop in for a quick snack or a full meal including wraps, salads, and soups. Au Bon Pain also serves breakfast, so patrons can grab a healthy start to the morning with a bowl of oatmeal and that morning cup of coffee.
Hours of Operation: Monday - Friday, 6:00 a.m. - 10:00 p.m.
Saturday, 6:30 a.m. - 9:00 p.m.
Sunday, 7:00 a.m. - 8:00 p.m.
MJ O'Connor's
The cozy pub option of the Boston Park Plaza Hotel, this pub serves up lunch, dinner, drinks, and even late night snacks for when those midnight snack cravings hit. O'Connor's serves a wide selection of beer, wine, and drinks as well as top-notch Irish pub fare. Don't miss this Boston hot spot.