Bright Angel Lodge & Cabins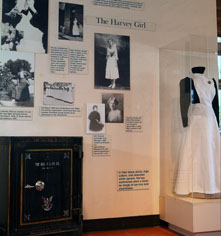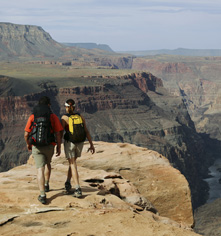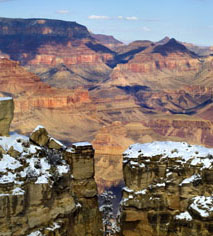 Local Attractions
The Grand Canyon is a seasonal wonder offering an abundance of activities for all ages and interests! Spring comes late at the canyon but there's no mistaking its arrival. Almost overnight a rainbow of wildflowers appears to greet the season. Summer is the most popular time to visit the Canyon with mule rides and motorcoach tours that run often. And, winter at the Grand Canyon provides a fairytale setting for the holidays.
Bright Angel Trail
Bright Angel is the Grand Canyon's most popular rim-to-river hike, as well as the most frequented trail in the entire park. The lengthy trail can be hiked to the bottom of the canyon, although most hikers prefer to turn back long before reaching the bottom. There are two rest stations along the trail that make for good day hikes. The first station is 1.5 miles into the hike, while the second can be reached after 3 miles.
The trail begins as a steep set of switchbacks descending through the Coconino, Hermit, and Esplanade strata, before reaching a tree-lined spring at Indian Garden. This is the site of the third rest station, featuring a ranger cabin and primitive campsites for those who want to spend the night. Back country permits are required for overnight camping inside the canyon, and may be obtained at the Back Country Information Center.
From Indian Garden, the trail forks: the left branch continues for a few miles towards Plateau Point, which provides excellent views of the inner canyon gorge and the Colorado River. The right fork continues down towards the river, traveling alongside it for a short distance before reaching Phantom Ranch.
Learn more about the Bright Angel Trail.
Kolb Studio
Once the home of Ellsworth and Emery Kolb, two brothers who were early photographers at Grand Canyon, the Kolb Studio features changing art exhibits displayed in the auditorium throughout the year. The Kolb brothers built the studio from 1904 to 1926. The Kolb Studio is included in the National Register of Historic Places and operated by Grand Canyon Association. The bookstore and auditorium are open to the public. Open year-round; hours vary seasonally.
Lookout Studio
Lookout Studio was designed in 1914 by Mary E J Colter as a gift shop and lookout point for the Fred Harvey Company. Perched on the South Rim, it blends exceptionally well with its natural surroundings. Lookout Studio sells photography and books related to the Grand Canyon, rock and fossil specimens, and traditional souvenirs. Two lookout points are open year-round, weather permitting, and hours vary seasonally.
For more information about Bright Angel Lodge & Cabins or to make reservations please visit grandcanyonlodges.com/bright-angel or call 1.888.29.PARKS (888.297.2757).