Caribbean Motel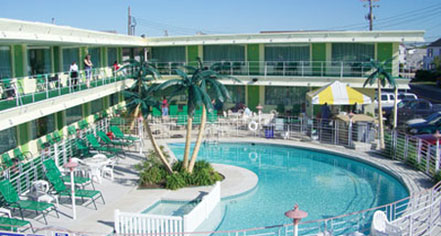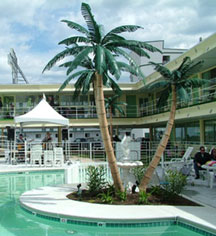 History
Post-war 1950's America was an optimistic, confident, enthusiastic society and an economic colossus where people enjoyed increasingly greater wealth and leisure time. TV overtook radio as the most important cultural influence and began broadcasting ads for a device that would transform society: the automobile.

Families wanted to get in their cars and go! The Wildwoods accommodated them with a dynamic seaside boardwalk complete with amusements piers and nightclubs that became a proving ground for the period's biggest music stars and newest genre of music, Doo Wop. The stage was set for the Caribbean Motel to become an iconic hotel in New Jersey.

Prosperity and vitality provided the impetus for an exciting high-voltage visual style that transformed The Wildwood's architectural landscape. It reflected the spirit of the people: brash, bold and boastful. The dense building fabric presented a varied and exaggerated spectacle of designs, all competing for the passing motorists' attention--angular elements, space-age imagery, tropical themes and colors, with sensational displays that can still be seen in The Wildwoods today.

The landmark Caribbean Motel, a most dramatic example of this homegrown style of architecture now labeled as "Doo Wop" (similar styles on the West Coast are often referred to as "Googie" or "Populuxe"), was built in 1957 by Lou Morey (whose family built many of The Wildwoods' most distinctive Doo Wop motels) for the original owners, Dominic and Julie Rossi.

Among the signature features of this ultra-modern motel is a curving "Jetson" ramp that winds from the ground level up to the second floor sundeck and lounge in a most glamorous fashion! Then there is the crescent-shape pool--still unique to this day--set off by the island's first plastic palms. Last but not least is the Caribbean's famous oversized rooftop neon sign--it glows like no other!

When first proposed, no sign as large as the Caribbean's had ever been installed--or permitted--in the Borough of Wildwood Crest. After much debate, the Borough approved it thus setting the stage for other similarly over-the-top motel signs which gradually established the neon-lit fantasyland of the Ocean Avenue "strip."

Caribbean Motel, a member of Historic Hotels of America since 2011, dates back to 1957.