Castle Hill Resort and Spa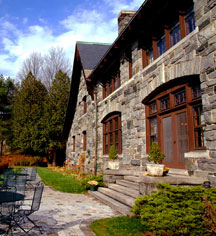 Local Attractions
The Green Mountains of Vermont offer year-round activities and attractions. The Ludlow, Cavendish and Proctorsville corridor of the Green Mountain region, is especially alive with adventures.
Okemo Valley Golf Course
Located in adjacent Ludlow, Vermont – the Okemo Valley course has been called "the best public course in Vermont."
President Calvin Coolidge's Homestead – a State Historical Site
The Historical site of Calvin Coolidge's Homestead where he took the oath of office is a popular local attraction.
Billings Farm & Museum
Billings Farm and Museum is one of the finest operating dairy farms in America and a museum of Vermont's rural past. This adventure is a gateway to Vermont's rural heritage.

The Weston Playhouse Theatre Company
The Weston Playhouse Theatre Company is a non-profit regional theatre company dedicated to enriching Vermont audiences.
The Vermont Country Store – Purveyors of the Practical and Hard-to-Find -
Vrest and Ellen Orton opened the Vermont Country Store in Weston, Vermont, in 1946. They were inspired by childhood memories of Vrest's father's general store in North Calais, Vermont, which opened in 1897. The Weston store was the first restored rural general store in the nation. Today, The Vermont Country Store is owned by Lyman Orton and sons Cabot, Gardner, and Eliot, 7th & 8th generation residents of Vermont, and 4th & 5th generation storekeepers.
Whether you love to shop or love to explore there is so much more to do in Vermont. Discover over 15 covered bridges of historical significance in the Okemo Valley Region. Plus there are severalarts & craft fairs to visit throughout Vermont. For the super shoppers there are dozens of designer outlet stores to explore in the outlet malls in Vermont.