Castle Hill Resort and Spa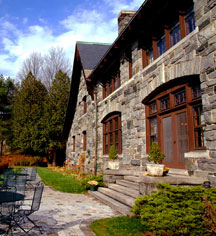 Weddings
Weddings are especially magical at the Castle Hill Resort and Spa. The majestic Green Mountains serve as a breathtaking backdrop to the enchanting grounds and stately mansion. The Aveda Concept Spa, on property, is the perfect preparation staging area to pamper the bride and bridal party.

Only one bride and one wedding is hosted at any given time to assure complete dedication to the bride and groom. In addition to this exclusivity, the bride and groom also have several staging options including the formal dining rooms, the library, the outdoor gardens and a reception tent. Up to 250 guests can be accommodated at the Castle Hill Resort and Spa.

The meticulous staff of this historical Vermont resort are also committed to making any hosted wedding a truly beautiful and memorable event.