Castle Hotel & Spa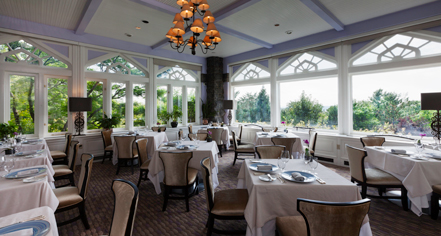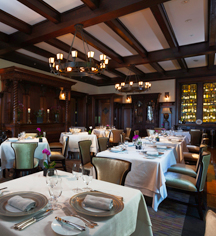 Dining
The Castle Hotel & Spa presents a lavish culinary experience with a celebrated menu and a choice of distinctive dining environments. Choose from indoor and outdoor settings throughout this majestic Castle Hotel property, to savor exceptional food and beverages.

Equus Restaurant
Equus Restaurant at Castle Hotel & Spa, the Zagat-rated winner of 5 Stars by the American Academy of Hospitality Sciences (AAHS), serves a uniquely modern Auberge-style, natural French-inspired menu. Combining refined techniques and fresh, seasonal and locally-sourced ingredients, this exquisite establishment affords an unrivaled gastronomic experience.
Featuring a contemporary style, Equus boasts three dining rooms, each with a distinct decor and atmosphere. The Garden Room features a romantic setting, revealing breathtaking views of the Castle's gardens, Hudson River, and the Manhattan skyline. Fitted with rich wood panel accoutrements first owned by Louis XIV, the Oak Room is a stately dining room, celebrating elements of the original castle. Formerly the original study and the library of General Howard Carroll, the Library is furnished with mahogany bookshelves and a working wood-burning fireplace.

Hours of Operation
Breakfast: 8:00 a.m. – 10:00 a.m. (Daily)
Lunch: 12:00 p.m. – 2:00 p.m. (Monday - Saturday)
Dinner: 5:30 p.m. – 9:30 p.m. (Daily)
Sunday Brunch: 11:30 a.m. – 2:30 p.m.

View the Equus Sunday Brunch Menu
View the Equus Lunch A La Carte Menu
View the Equus A La Carte Dinner Menu
View the Equus Prix Fixe Dinner Menu
View the Equus Dessert Menu

The General's Bar and Tapestry Lounge
Relax and socialize in a charming living room setting in The General's Bar and Tapestry Lounge. This setting presents a comforting warmth ideal to enjoy an aperitif, cocktail, or after dining refreshment.
The Terrace and Pool Grotto
Enjoy a casual cocktail and snacks while relaxing at the Grotto or Poolside Bar with all-day access to the Equus menu.