Cavallo Point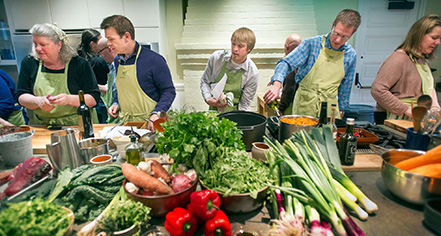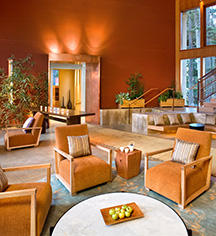 Activities & Events
Cavallo Point offers the best of the Bay Area. The lodge is situated within the 75,000 acres of Golden Gate National Park – one of America's most beautiful national parks. Some of the world's best hiking, biking, sailing and kayaking are right outside the door. Here in the San Francisco Bay Area, with temperate weather year-round, adventures for both adults and kids beckon from all directions.
Onsite, the Healing Arts Center & Spa offers innovative spa treatments in a serene, tranquil setting. Filled with natural light and top-of-the line culinary equipment, the Cavallo Point Cooking School is an intimate place to taste, create and learn. The lodge offers complimentary yoga classes every morning and regular guided hikes.
Cavallo Point is also home to a diverse, private photography collection that includes large-scale artworks from renowned photographer Gregory Colbert's Ashes and Snow collection. The Mercantile and Art Gallery showcase works by talented local artists and artisans.
For family fun, nearby are the Bay Area Discovery Museum, one of America's best children's museums; Muir Woods; and Slide Ranch. For adults, a visit to the Napa and Sonoma Valleys is just a one-hour drive. For all, San Francisco offers myriad options for enjoyment, including shopping, museums, theater, sightseeing and much more.
Located just minutes from San Francisco excitement, Sausalito charm and Marin Headlands activities, Cavallo Point is the perfect location for an intimate escape, fun-filled getaway or family vacation.