Claremont Club & Spa, A Fairmont Hotel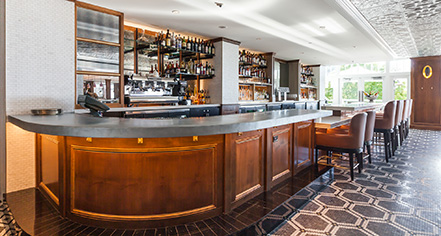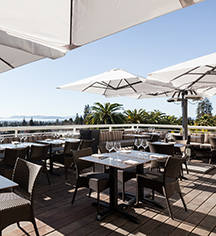 Dining
Meritage
Meritage, Claremont Club & Spa's signature restaurant, offers refined steak and seafood dishes amid stunning Bay views. Fresh seafood, cut-to-order Japanese Wagyu, California grass-fed beef and USDA Prime cuts are paired with locally-sourced ingredients to create a contemporary and elegant menu. Meritage also serves breakfast daily and is home to a lavish weekend brunch.
Claremont Lobby Lounge & Bar
Paired with stunning views of the San Francisco Bay, enjoy the perfect cocktail, wine, and artisanal bites.
Afternoon Tea at the Claremont
Steeped in customs, the fashionable Afternoon Tea, served in the Claremont Lobby Lounge, will certainly leave nothing to be desired. Breathtaking views and an unmatched Tea selection are certain to conjure up new traditions for guests and their families.
Bayview Café
Enjoy casual poolside dining with a menu focused on health and wellness.
Limewood
Limewood Bar & Restaurant serves regionally-sourced cuisine for lunch and dinner daily in a vibrant and casual setting. Indulge in Chef Joseph Humphrey's thoughtful and approachable menus and take in breathtaking views of the San Francisco Bay at Limewood, located at the iconic Claremont Club & Spa.