Crowne Pointe Historic Inn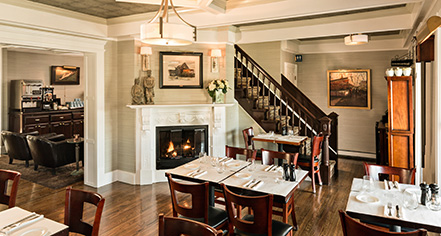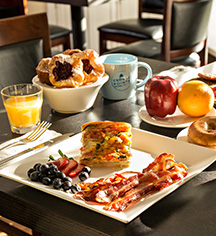 Dining
The day starts early for the Crowne Pointe Historic Inn's chefs. Before the first rays of dawn touch down on Provincetown Harbor, they can typically be found setting up fresh-brewed coffee for early bird guests. The complimentary, hot gourmet breakfast is served daily between 8:00 a.m. and 11:00 a.m. and features a variety of cereals, yogurt, fresh fruit and juice, scrumptious fresh-baked muffins and breads, French toast, pancakes and various hot egg specialties. The menu changes daily and portions test the best appetites. Guests may choose to dine indoors in one of two romantic dining areas, or in the parlor beside the fireplace, or even outside on the spacious wrap-around front porch.

Each evening, between 5:00 p.m. and 6:00 p.m., relax or meet other people is at the inn's complimentary evening wine and cheese social.

In an age of quick-and-easy, the Crowne Pointe Historic Inn's restaurant hearkens back to a time when everything was done "the old fashioned way," using the best and freshest ingredients, mixing them with plenty of love, and taking the time to produce delicious signature breakfasts, desserts and the gourmet evening dinner service. The fine dining restaurant captures guests with exquisite cuisine and the hotel's bar is a treasured place to socialize. The finest menu creations, carefully selected labels from the wine cellar, and excellent service in a charming setting await.
Offsite Dining
Provincetown is home to many restaurants, with fresh seafood being a popular choice. The nearby Lobster Pot is a casual restaurant but serves fresh local catch in a convivial and light-hearted atmosphere.