Distrikt Hotel Pittsburgh, Curio Collection by Hilton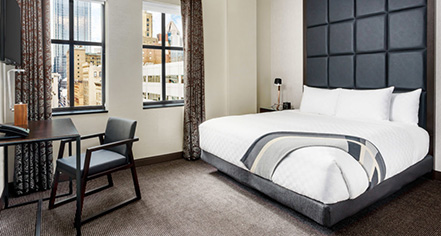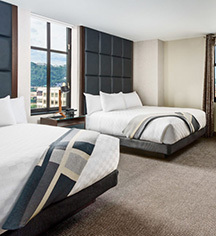 Accommodations
Situated within the beautifully-revitalized walls of a historic Salvation Army charity center, Distrikt Hotel Pittsburgh, Curio Collection by Hilton possesses accommodations that are nothing short of spectacular. Each one of its newly-renovated guestrooms radiate a sophisticated charm that will certainly impress all who relax inside them. These wonderful spaces deliver the best in contemporary comfort, offering an abundance of luxurious amenities that include designer toiletries, complimentary refreshments, and the latest audiovisual technology.
The Distrikt Hotel Pittsburgh also features an array of incredible suites that epitomize the essence of true luxury. These excellent rooms offer cozy living spaces and large, marvelous baths that guests will find to be simply stunning. And those who wish to have a truly memorable stay will especially relish the Presidential Suite located on the tenth floor, with its ample workspace, eloquent décor, and quaint rooftop patio.
Throughout the recent renovations, the Distrikt Hotel Pittsburgh endeavored to guarantee that every single one of its accommodations would be accessible to all. As such, its guestrooms and suites are fully ADA compliant. The hotel even offers a selection of rooms that have been specifically designed for those traveling with physical limitations. Not only do these rooms come with the standard guestroom amenities, but they also have additional features, including spacious walk-in showers and lowered bedframes.
Guestrooms
One King Bed
One King Bed Deluxe
One King Bed Deluxe Mobility Accessible (with Roll-In Shower)
One Queen Bed
One Queen Bed Mobility Accessible (with Roll-In Shower)
Two Queen Beds Deluxe
Two Queen Beds Deluxe Mobility Accessible (with Roll-in Shower)
Suites
One King Bed One Bedroom Presidential Suite
One King Bed Junior Suite
One King Bed Bedroom Suite
One King One Bedroom Residence Suite
Guestroom and Suite Amenities
Coffee and tea-maker
Complimentary designer toiletries
Complimentary wired Internet and WiFi
Connecting and adjoining rooms (available upon request)
Cribs and infant bedding (available upon request)
Daily housekeeping
High-definition television with premium channels
Soundproofed rooms
Hypo-allergenic bedding (available upon request)
In-room safe
MP3 and iPod docking stations
Pillow top mattress
Refrigerator