DoubleTree by Hilton Youngstown Downtown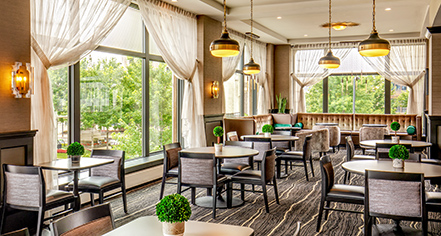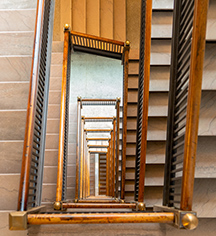 History
Listed on the National Register of Historic Places, DoubleTree by Hilton Youngstown Downtown has been a celebrated local landmark for over a century. Recently renovated into a hotel, the location was originally founded as the Stambaugh Building during the early 20th century. Construction for the eight-story, Neo-Classical building began in 1906 and was financed by the prominent Stambaugh family, who were central figures in the development of Youngstown's historic steel and iron industries. The Stambaughs employed noted industrial architect Albert Kahn of Detroit for the project. The exterior was faced with white brick, with an intricate trim for the cornice. When the Stambaugh Building debuted in 1907, it stood as a one of Youngstown's tallest skyscrapers.
The Stambaugh was home to the Youngstown Sheet and Tube Company, who occupied the top five floors. The lower three floors and basement were occupied by the Euwer's Department Store which featured 25 departments. It also contained several facilities considered modern for its age, such as an independent exchange, a novelty telephone system, and a mahogany soda fountain. By 1912 the Stambaugh boasted 100% occupancy and an additional four stories were finished in 1914, topping the building at 160 feet.
In 1940, Morris Plan Bank occupied the first floor. Other tenants during the 1940s included the Youngstown Automobile Club and Western Union. Youngstown Sheet and Tube moved its corporate offices to suburban Boardman in 1958. The Standard Slag Company relocated to the top three floors of the Stambaugh shortly after, as did Bessemer Limestone. On July 18, 1967, it was announced that the Stambaugh, partially owned by John Stambaugh III among others, was to be sold to Youngstown Realty Corporation. Over the next forty-five years the Stambaugh would see additional ownership changes. As outlining suburban areas gained popularity, occupancy steadily dwindled to just a few tenants.
In July 2012, the Stambaugh was sold to Dominic Marchionda who partnered with Pan Brothers Associates from New York, to rehabilitate the Stambaugh to the now present DoubleTree by Hilton Youngstown Downtown.
DoubleTree by Hilton Youngstown Downtown, a member of Historic Hotels of America since 2019, dates back to 1907.