DoubleTree by Hilton Youngstown Downtown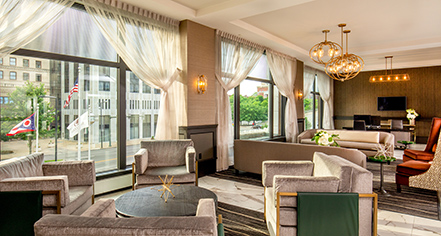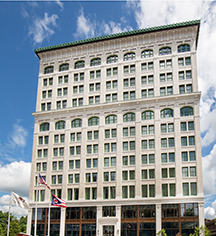 Local Attractions
Located in the heart of Youngstown, Ohio, the DoubleTree by Hilton Youngstown Downtown is steps away from downtown attractions such as the Covelli Center, the Arms Family Museum, and the Stambaugh Auditorium, a non-profit public auditorium which opened in 1926 after a generous gift from Henry Stambaugh. Its proximity to public transportation makes exploring downtown easy. Youngstown has several options for local food and dining, as well as independent shops and several art and entertainment venues. Including the Butler Institute of American Art and the McDonough Museum of Art.
The Arms Family Museum
The Arms Family Museum, a magnificent 1905 Arts & Crafts style mansion, features the Arms Family's love of handicraft, medieval architecture, and the natural environment.
The Butler Institute of American Art
The Butler Institute of American Art, known worldwide as "Americas Museum," was founded in 1919 and its holdings now exceed 20,000 individual works.
Stambaugh Auditorium
The Stambaugh Auditorium is a non-profit public auditorium which opened in 1926 through the generous gift of Youngstown area businessman, Henry H. Stambaugh. The centerpiece of the complex is the Concert Hall, which has a seating capacity of 2,553, and is renowned for its near-perfect acoustics. The venue welcomes national and international performers on a regular basis while also hosting local and regional entertainment and public events. Stambaugh Auditorium was listed on the National Register of Historic Places in 1984.
Covelli Centre
The Covelli Centre is proud to be Youngstown's premier sports and entertainment facility. Located between Cleveland and Pittsburgh, it hosts world-class events, concerts, family shows, and sporting events.
DeYor Performing Arts Center
The DeYor Performing Arts Center is recognized as one of the most beautiful performance venues in the Midwest. The DeYor's two main performance halls, Edward W. Powers Auditorium and the Ford Family Recital Hall, provide ideally suited spaces for large orchestral performances and theatrical productions as well as intimate recitals and family oriented performances.