El Tovar Hotel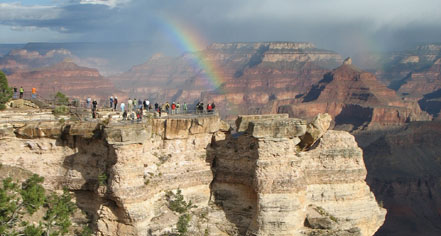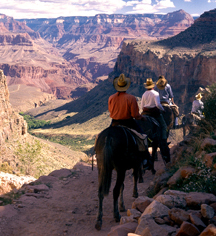 Local Attractions
The Grand Canyon is a seasonal wonder offering an abundance of activities for all ages and interests! Spring comes late at the canyon but there's no mistaking its arrival. Almost overnight a rainbow of wildflowers appears to greet the season. Summer is the most popular time to visit the Canyon with mule rides and motorcoach tours that run often. And, winter at the Grand Canyon provides a fairytale setting for the holidays.
Two featured attractions guests are encouraged to enjoy are The Trail of Time interpretive walking timeline, and the historic rail journey aboard the Grand Canyon Railway departing daily from Williams, Arizona.
Trail of Time
The Trail of Time is an interpretive walking timeline that focuses on Grand Canyon vistas and rocks and invites visitors to ponder, explore, and understand the magnitude of geologic time and the stories encoded by Grand Canyon rock layers and landscapes. Starting just west of the Yavapai Geology museum, visitors can walk back in time from today to the oldest rock in Grand Canyon - Elves Chasm gneiss (1,840 million years old). Alternatively, guests can begin east of Verkamp's Visitor Center, walking forward in time from 1,840 million years ago to the youngest rock in the Grand Canyon - Kaibab Limestone (270 million years old).
Grand Canyon Railway
The journey aboard the Grand Canyon Railway is a full-day experience that travels the historic rail line between Williams, Arizona and the South Rim of the Grand Canyon. Offering five classes of vintage train service, strolling musicians, cowboys, and a gunfight, the Grand Canyon Railway is a tour for those who want to get the most out of their adventure to the South Rim. 1950s era diesel locomotives power the train year-round and special steam-powered trains depart on select dates throughout the year.
The journey starts at $75 per adult, and $40 per child ages 2-15 . Visit thetrain.com for more information on this historic way to visit the Grand Canyon.
For more information about El Tovar or to make reservations please visit grandcanyonlodges.com/el-tovar or call 1.888.29.PARKS (888.297.2757).