Fairmont Heritage Place, Ghirardelli Square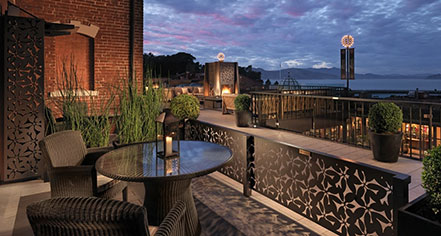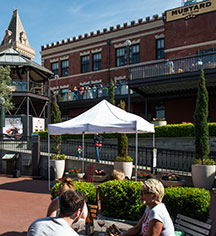 Dining
San Francisco's Ghirardelli Square has become an iconic destination located next to Fisherman's Wharf. Guests of the historic Fairmont Heritage Place, Ghirardelli Square can dine at nearby restaurants within the square, just a short jaunt from the residences. For those who would like to venture out a bit farther from the square, the Fairmont Heritage Place, Ghirardelli Square Concierge Team is delighted provide guidance and their expertise of San Francisco's eclectic restaurant scene. Restaurants within two miles of the residences qualify for free chauffer services through the house car.
McCormick and Kuleto's
Diners enjoy expansive views of the San Francisco Bay and Alcatraz Island while feasting on a delectable culinary experience. McCormick and Kuleto's sources fresh seafood from the Pacific Rim, Atlantic Ocean, and the Gulf of Mexico.
The Pub at Ghirardelli Square
The Pub is located near the Fairmont Heritage Place, right in Ghirardelli Square, and serves American Southern classics, such as house smoked BBQ as well as late-night dining for those needing a midnight snack. The Pub offers a wide range of handcrafted cocktails, a great beer selection, and a friendly, professional staff.

San Francisco Brewing Co.
This newly opened brewery and restaurant is located in a 12,000 square-foot location, serving up beer and a menu of pub-style food including pizzas, salads, sandwiches, and fish tacos.

Wattle Creek Winery
A lavish tasting destination with a wide selection of new releases, wine flights, and options by the glass, or purchase a bottle to enjoy in the Square on the patio. Open 7 days a week; no reservations necessary.
Palette
Koi Palace, Daly City's extremely popular dim sum eatery, is poised to open in Ghirardelli Square in September 2018. This new restaurant will be called Palette and will feature wok-fired mussels and clams, grilled lobsters on the half-shell, a variety of skewers, and its famous dim sum. A grab-and-go dim sum take-out may also be in the works.
The Cheese School of San Francisco
Opening in late 2018 in Ghirardelli Square.