The Georgian Terrace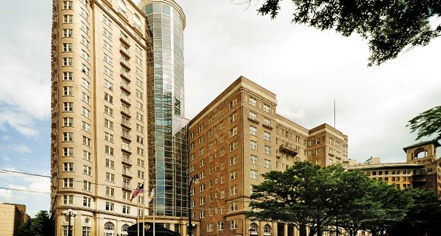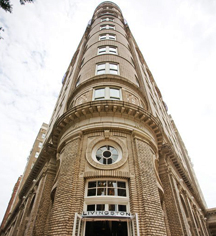 Penthouse Suites
Livin' large and livin' luxurious in the Penthouse Suites at The Georgian Terrace means enjoying views of Midtown Atlanta that can be considered downright gorgeous. Melt into the luxuriously comfortable beds like butter and let the 300-thread-count-linens give the night's sleep that "fluffy-cloud" feeling.
Penthouse 1
This two level penthouse includes two bedrooms, two-and-a-half baths, and 2,941 sq ft. The bedrooms are located on the upper level. A master bedroom and guest room each have an adjoining bathroom with a dressing area and walk-in closets. The main floor has a full kitchen, a living room and a dining room area with modern, stylish furnishings. The room offers plenty of natural light and when that's not available, the tasteful lighting fixtures add ambiance to an already sophisticated and serene interior.
Penthouse 2
Two levels, two-and-a-half baths, two bedrooms, a den, and 2,425 sq ft furnished with mid-century style modern pieces with clean, bold color. The master and guest bedroom are on the upper level and the main floor houses the living room, the dining room area, den,half-bath, and kitchen. From this Penthouse, guests can look out towards the wouth and enjoy the twinkling lights of Midtown Atlanta.
Penthouse 3
As the old saying goes, "Third suite is the largest," or something along those lines. At 2,718 sq ft, Penthouse 3 features a dramatic glass rotunda which lets in plenty of natural light. The decor has clean lines and a rich, yet conservative palatte, ideal for sophisticated leisure and corporate guests.
Penthouse 4
Another string of "twos" in this modern, yet sof spoken suite, with two levels, two-and-a-half baths, 2,171 sq ft, and an Eastern sunrise view of Midtown Atlanta.
Penthouse 5
Ideal for entertaining guests as this is an apartment-style suite with a modern decor and complementary hues. East facing, guests can enjoy a peaceful morning sunrise and a designer kitchen with stainless appliances and a glass-tile backsplash.
Penthouse 6
A plush living and dining area are lit with modern chandeliers in this two bedroom, two bath and 1,525 sq ft, east-facing suite. Guests can enjoy views of Stone Mountain during the day and twinkling city scapes at night. The master bathroom includes a delightful soaking tub with separate shower and dressing area.
Suite 821
The standard two bedroom, two bath, dressing room, and 1,740 sq ft of space, the decor is refined and can be described as "restrained indulgence" with a crystal chandeliers, and dark-walnut cabinets and stainless appliances. A, apartment-style suite located in the southwest corner of the 8th floor.