Glasbern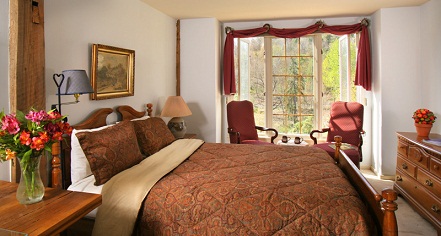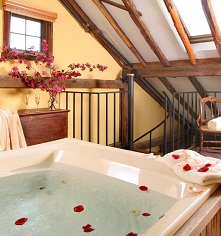 Accommodations
Glasbern welcomes guests with the warmth and charm of a rustic country inn, combined with the modern amenities of a 21st-century hotel. These Pennsylvania heritage accommodations feature 34 guestrooms located throughout seven structures on the property. Each guestroom comes standard with private baths, queen- or king-size beds, wireless Internet access, television with DVD player, bathrobes, and a complimentary breakfast. Most guestrooms feature whirlpool tubs, gas or wood-burning fireplaces, and Sleep Number® beds.
Each Garden Cottage features cathedral ceilings, a spacious living room, wet bar, wood-burning fireplace, private deck with pasture views, and an antique desk. Garden Cottages are a favorite of brides for their wedding night.
Farmhouse Suites are located within the property's original farmhouse. Farmhouse Suites include the two-story Deluxe Suite with steam shower for two, private outdoor patio, and wet bar. Lower suites feature a central wood-burning fireplace and the private upper suite includes a dual electric-heater fireplace.
Carriage House Suites are located in what was once the original tractor shed. Suites available in the Carriage House include the Sunroom Suite with wrap-around windows and the more intimate Upper Suite.
The Stable is divided into two guestroom suites, the Stables Suite and Stables Lower Suite. The Stables Suite features a spiral staircase leading to a loft with whirlpool. The Stables Lower Suite is both handicapped accessible and pet friendly.
The two Gatehouse Suites are housed in what was originally the farm's garage. Each offers a spiral staircase leading to a loft with a two-person whirlpool.
The Packhouse is home to 12 guestrooms. Packhouse lower level suites feature outside entrances and patio space with sunset views. Packhouse upper level suites offer either cathedral ceilings with exposed beams or barn-board shutters.
Standard and Whirlpool Barn Rooms are located within the barn, the main structure on the property. With the dining area, pub, kitchen, and front desk also located within the barn, guests have easy access to many of the property's amenities and facilities.