Grand Hotel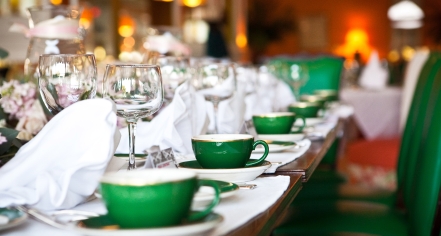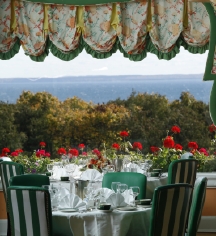 Dining
Since its opening, Grand Hotel has offered exceptional fine dining on Mackinac Island. Included with the hotel's social room rates known as the Full American Plan are a full breakfast, the legendary Grand Luncheon Buffet, and a five-course dinner daily. The Modified American Plan includes a full breakfast and five-course dinner and is available most package weekends.
Breakfast
Breakfast includes a wide selection of entrees, including omelets and made-to-order eggs, hot and cold cereals, pancakes, French toast with real Michigan maple syrup, hot oatmeal, breakfast meats, fresh breads and pastries, juices, fruits, and more.
Lunch
The Grand Luncheon Buffet served in the legendary Main Dining Room features garden-fresh salads, savory cheeses, slow-roasted meats, seafood and more than 20 varieties of fresh baked pastries. Other lunch dining options include Carleton's Tea Store, in the hotel, The Gate House, just down the hill from the hotel, Jockey Club at the Grand Stand, overlooking the first tee of The Jewel, Fort Mackinac Tea Room, with exceptional views of Mackinac, Pool Grill, Cawthorne's Village Inn, located in downtown Mackinac Island, or a Grand Picnic for you to take and enjoy on Grand Hotel grounds or around Mackinac Island.
Dinner
For dinner a number of dining options are available, from the legendary Main Dining Room—which overlooks the Straits of Mackinac and where a coat and tie for gentlemen and dress or pantsuit for ladies is required after 6:30 p.m.—to more casual options that include Woods, situated in an opulent Tudor mansion a short horse-drawn carriage ride from the hotel; The Gate House, just down the hill from the hotel; The Jockey Club at the Grand Stand, overlooking the first tee of The Jewel; or Cawthorne's Village Inn, located in downtown Mackinac Island.

Recipes from the Grand Hotel
Pecan Balls with Fudge Sauce