Hilton Milwaukee City Center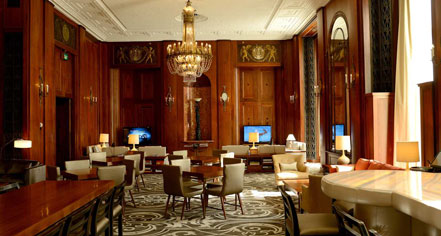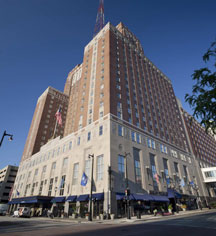 Weddings
Explore the Wedding Venues and Spaces at Hilton Milwaukee City Center

Wright Ballroom - The Wright Ballroom is ideal for the no-nonsense bride and is styled in contemporary whites and greens and luminescent lighting features. With seating for up to 200, the Wright Ballroom is the perfect choice for intimate gatherings.
Empire Room - The Empire Room, with its original chandeliers from 1927, features a 30 foot ceiling with dramatic tri-level seating for up to 350.
Crystal Ballroom - The stunning and lavish Crystal Ballroom, adorned with crystal chandeliers, ornate trimming, a 22 foot ceiling, and plush velvet royal curtains, can seat up to 500 people for an extravagant event or as few as 200 for a more intimate gathering.
Regency Ballroom - The quaint and intimate Regency Ballroom, with its gold piping and decorative woodwork, makes this room ideal for a wedding of 125 on its own, or as a recepting area in combination with the Crystal Ballroom.
Outdoor Event Space - 6th and Green is an outdoor event space nestled between the historic hotel towers and 6th Street. The lush green lawn is separated by a pebble walkway leading up to a octagonal gazebo and bordered by multicolored shrubbery and seasonal flowers. 6th and Green is the perfect location for an outdoor wedding ceremony, wedding reception, gala event, or more casually as a beer garden for a bachelor or bachelorette party. 6th and Green may also be tented in case of inclement weather.