Hilton Orrington/Evanston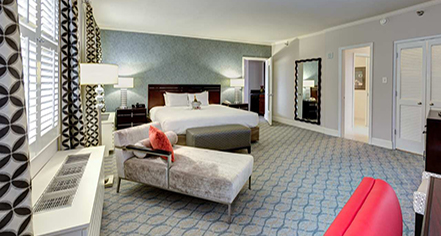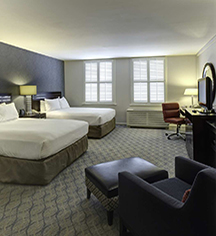 Accommodations
Designed with comfort and convenience in mind, Hilton Orrington/Evanston offers thoughtfully-appointed accommodations in a variety of guestrooms and suites. Guests can stay connected with the oversized work area with ergonomic chair and complimentary high-speed Internet access or relax in front of the 32" expanded flat-screen television with a full selection of HD DirectTV channels furnished in every room.
The Hilton Orrington/Evanston is proud to be a certified Pet-Friendly Hotel by Pets Can Stay. The staff is ready to assist in fulfilling any request for your pet to make your guest experience, and that of your four-legged friend, as close to perfect as possible.
Pet weight limit 25lbs or less. One-time per stay $50.00 non refundable Pet fee. All Pets must be registered when making reservations. Dog beds offered upon request.
Explore the Accommodations at Hilton Orrington/Evanston
Guestrooms - Available in Petit and Superior layouts, these rooms includes an office area, European-style bathroom, and one king- or two queen-sized beds.
Suites - A variety of suites with additional luxury amenities are available to accommodate the unique needs of every guest.
Accessible Rooms - Outfitted to ensure the comfort and safety of every guest, these rooms are furnished with assistive features in addition to all of the standard luxury amenities.