Historic Hotel Bethlehem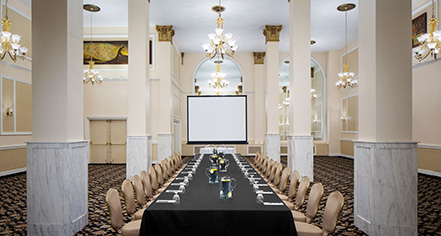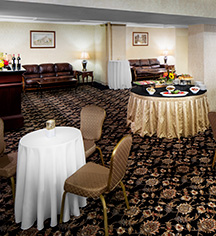 Meetings & Groups
With nine different rooms and 14,000 sq ft of space to choose from, the Historic Bethlehem Hotel is the most well-equipped venue in Lehigh Valley to host an event. The historic landmark is located just mere minutes away from Allentown and Easton, Pennsylvania, Lehigh University, and Moravian College. Shuttle rides to and from the airport are only ten minutes and free of cost. Complimentary high-speed wireless Internet access is available in all meeting rooms.
The Grand Ballroom
The grandest room in the hotel with charming and elegant 1920s decor. Four large arched mirrors and gorgeous mezzanine balconies make this room one of the most elegant rooms in Lehigh Valley. The ballroom seats up to 300 for banquets and special events.
The Mural Ballroom
Relive the history of hotel and the surrounding area through the seven large murals painted by George Gray. The room seats up to 190 guests.
Meeting Rooms
Seven meeting rooms are available; two on the mezzanine level and five on the 3rd floor. At the mezzanine level, each room measures in at 496 sq ft and can host 50 people, theater style. On the 3rd floor, rooms range in size from 340 - 1340 sq ft for 40 - 120 guests.