Historic Hotels of Lake Geneva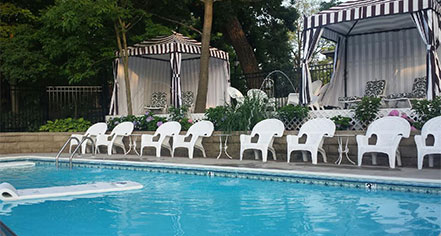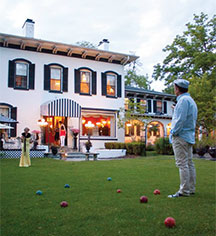 Activities & Events
Live Music at the Baker House Fireside Lounge
Fridays, 6:00 p.m. – 8:00 p.m during the Winter Season. Enjoy live music in the beautiful architecture and luxe surroundings with cocktails and regional small plate favorites, such as Wisconsin artisan cheese boards, savory charcuterie, seasonal fondues and spreads on the lite fare lounge menu.
SunDowner Celebration
Sunset during the Summer Season (June - September). Toast to End the Day and celebrate Birthdays, Anniversaries, and the History of the House.
Venetian Fest
Third week in August. Baker House hosts a Masked Masquerade Ball on the last Day of Festivities, toasted with a fantastic fireworks display in Geneva Bay. The Venetian Festival takes place at Flat Iron Park in picturesque downtown Lake Geneva. Venetian is a five day festival featuring a carnival, craft fair, water ski show, musical entertainment, local cuisine, and the festival's traditional lighted boat parade, followed by the area's largest fireworks display high above Geneva Lake.
Winterfest
First two weekends in February. Baker House hosts its own internationally recognized Fire & Ice Lounge outdoors during Winterfest.
Speakeasy Bar
Shhh... The award-winning 1920s Speakeasy Bar, located in the basement of the Maxwell Mansion, will be open on Fridays from 9:00 p.m. until midnight. A password is required for entry and can be found on the Facebook page. If they don't have one posted, message them, and they will respond with the password.