Historic Hotels of Lake Geneva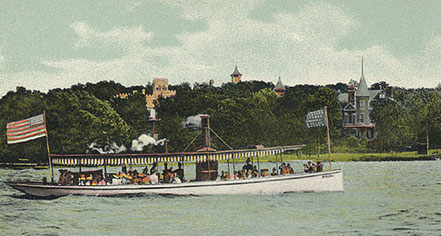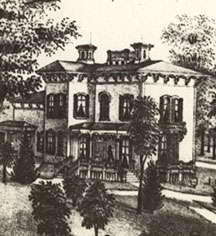 History
The collection of Historic Hotels of Lake Geneva is comprised of two historic buildings, the Baker House and the Maxwell Mansion. Together, they provide a luxurious and historic experience to guests visiting Lake Geneva. Lake Geneva achieved its prominence in the 1880s when railroad access was expanded by the Chicago and Northwestern Railroad, bringing city dwellers from Chicago to the lake region for summer vacations. Following the Great Chicago fire in 1871 and the Great Columbian Exposition in Chicago in 1893, Lake Geneva became a permanent location for lake-side mansions for residents from Milwaukee and Chicago. The town of Lake Geneva, Wisconsin is about 35 miles southwest of Milwaukee and about 90 miles north of Chicago.
History of Baker House
Built in 1885 as a summer residence for Mrs. Robert Hall Baker (Emily), the 17,000 square foot, 30 room, Queen Anne mansion was first named "Redwood Cottage," with the exterior shingles being completely made from the great Californian Redwoods. There are seven different ornate patterns cut into thousands of original shingles, which are rivaled only by the craftsmanship of the pristine stained glass, hand planed custom doors, massive fireplace mantles, and ornate inlaid wood floors found throughout the home.
Designated a Nationally Registered Historic Property, the Baker House is beautifully preserved with most of its original ornate details intact. Throughout the home, one will find inlaid wood floors made from five different species of wood (believed to be one of S.C. Johnson's very first home installations), thirteen ornate fireplaces surrounded by floor to ceiling hand-carved mantles embellished with pristine J & JG Low Art Tile of Chelsea, Massachusetts. This rare and highly collectible tile can be seen in every parlor of the mansion and is rumored to be one of the most diverse and well-preserved examples Low art tile in the country.
Emily's husband, Robert, was born and raised in Lake Geneva and graduated from Beloit College before moving to Racine, where he became an early partner in the J. I. Case Company. As a well-respected businessman and community leader, he soon was elected Racine Mayor and two-term Wisconsin State Senator before his untimely death in 1882 at the early age of 43. Two years later, his widowed wife, Emily, began building this summer home as a grand tribute to the man she so adored on the lake that he so loved. Upon completion of the home, Robert's initials (R. H. B.) were lovingly placed in the threshold of the entry by Emily so she would never have to pass through the door without him. Today, guests are still greeted by Mr. Baker as they cross that very same threshold and the essence of Emily is never far behind… as it is highly rumored that the Baker House has "spirits" other than those poured into a glass.
Over the last 130 years, the home has had many lives: a summer home for Emily and her five children; a "fashionable" sanitarium for wealthy Chicagoans recovering from light nervous disorders and addiction; a clandestine Speakeasy during Prohibition; and by the 1930s it was the lakeside hotel and restaurant, best known over the decades as the "St. Moritz." In 2010, the "Redwood Cottage" once again became a hotel and private residence, and the owners have lovingly restored and decorated the home to share with friends and guests in its original style of a Gilded Age cottage. It has been renamed the Baker House, in tribute to Emily and Robert and the legacy they began.
History of Maxwell Mansion
In the Spring of 1855, prominent Chicago surgeon and real estate prospector Dr. Philip Maxwell started construction of a large, handsome, summer dwelling in Lake Geneva, on land he had acquired years earlier, which at the time was "lakefront" property. The estate was named "The Oaks" in honor of the centuries-old trees surrounding the mansion. The following Spring in 1856, he and his wife Jerutha moved into their grand new summer home overlooking Geneva Lake.
Tall windows, broad entrances, elaborate ornamental wood moldings, marble fireplaces, and a grand staircase gave testimony to Dr. Maxwell's position as a community leader. Regarded as one of Lake Geneva's finest landmarks, the building predates all of the area's notable summer mansions and served as a summer residence for a line of several prominent Chicago industrialists who entertained both political and social dignitaries. General Grant once stayed here and it was also the site of an early courtship of Nancy Davis, who later became the wife of President Ronald Reagan.
The completed boutique resort now encompasses three acres of gardens, lounges, outdoor fireplaces, a heated pool, croquet and bocce ball amusement, and 30 luxury hotel guestrooms steeped in history and renewed with dramatic Gilded Age grander.

Historic Hotels of Lake Geneva, a member of Historic Hotels of America since 2016, dates back to 1856.