Hotel Blackhawk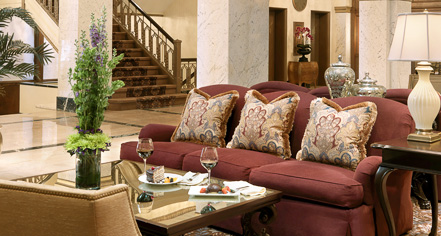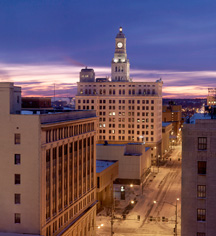 History
Opened on February 16, 1915, Hotel Blackhawk was built at a cost of $1 million by local businessman W. F. Miller and featured seven floors and 225 guestrooms. Designed by local architectural firm Temple & Burrows, the hotel blends elements of Italian Renaissance and Art Deco styles highlighted by the terra cotta pilasters, stonework, and decorative details.
Through the decades, Hotel Blackhawk experienced several renovations and upgrades, including the addition of a ballroom and expansion to the grand Gold Room.
Today, Hotel Blackhawk commands downtown Davenport, Iowa, and remains a choice destination for luminaries and the political and social elite. Affording 11 stories, 130 guestrooms and suites, elegant meeting rooms, and refined service, the hotel celebrates its significant history without sacrificing luxury comforts.
Hotel Blackhawk was listed in the National Register of Historic Places in 1983.

Hotel Blackhawk, a member of Historic Hotels of America since 2010, dates back to 1915.