Hotel Saranac, Curio Collection by Hilton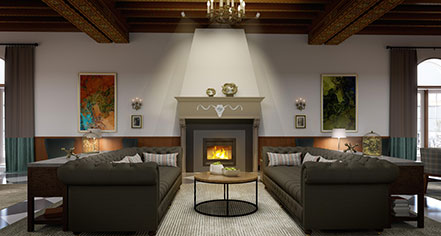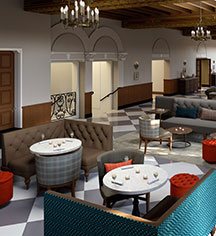 History
1819: The Village of Saranac Lake was first settled as a remote camp for guides and lumbermen.
1876: The arrival of Dr. Edward Livingston Trudeau sparked the development of the sanitarium village and resulting in Saranac Lake becoming a leader in the health care industry.
1892: The Adirondack Railroad was built and ran from Saranac Lake to Penn Station. The railroad can be still be visited in downtown Saranac Lake.
1894: Poles erected and wires were strong, illuminating the Saranac Lake village for the very first time by the Saranac Lake Light, Heat, and Power Company.
1897: The very first Saranac Lake Winter Carnival was a one-day "fancy dress" event sponsored by The Pontiac Club. Since the winter of 1947-48 this not-to-be-missed event has been held in Saranac Lake annually in February.
1901: Mark Twain vacationed on Lake Flower where he wrote a Conan Doyle spoof, A Double-Barreled Detective Story.
1925: Morton Marshall and JB Scopes formed the Saranac Lake Hotel Corporation and prepared to open the iconic Hotel Saranac. The hotel now sits where a 3-story wood-frame high school building once stood.
1927: The birth of an Icon. Envisioned by the owner as a "true city hotel," equipped with modern innovations such as private baths for every one of its rooms, the Hotel Saranac opened on July 1, 1927. Its first advertisement promoted "modern, fireproof, 100 rooms, 100 baths, no invalids, European plan."
1928: Hotel purchased by Frank Miller.
1931: Within 5 years of opening, the hotel became a preferred venue for community meetings and events, hosting groups such as the Franklin County League of Women Voters, ADK Council of Boy Scouts of America, and Northern NY headquarters of Women's Organization for the National Prohibition Reform.
1932: The hotel was booked solid five months in advance of the 1932 Winter Olympic games at Lake Placid.
1936: Albert Einstein had a summer home in Saranac Lake and could often be seen sailing with his wife on Lake Flower.
1937: Rita Marshall Snider, Morton Marshall's widow, retains ownership of the hotel.
1940s: The original Hotel Saranac sign was installed on top of the hotel, visible from miles away and stands proudly today as a beacon of downtown Saranac Lake.
1948: New dining room opens.
1955: An observation post was constructed on top of the hotel to assist the Civil Defense Committee in spotting unidentified foreign aircraft during WWII.
1956: Hotel is purchased by Norman Meyer.
1958: Recreational skiing is booming post WWII, and Whiteface Mountain opens, drawing major competitions and visitors from near and far.
1962: Paul Smith's College officially purchased the hotel to complement its Hotel, Resort, and Culinary Management program by providing "on the job" experience for its students.
1974: The lobby ceiling was repainted to restore its resemblance with the Davanzati Palace of Florence Italy.
1977: Major renovations occurred under the ownership of Paul Smith's College.
1980: Lake Placid hosted the 1980 Winter Olympics drawing thousands of athletes and spectators to the region.
1986: Hotel Saranac gets its first computer system.
1996: Now accepting online reservations for the first time.
1998: Hotel Saranac joins Historic Hotels of America.
2002: Hotel Saranac celebrates its 75th birthday!
2006: Hotel Saranac purchased by Arora family.
2008: Individual air-conditioning and heating units were installed in each room, providing an upgraded experience for guests. In 2017, the hotel will reopen with luxurious individual digital controlled central air in each guestroom.
2013: In 2013, the Roedel Companies, which has generation-spanning ties to Saranac Lake, purchased the building, which had fallen into disrepair. Grueling renovations followed, with the purpose to restore Hotel Saranac to its rightful splendor and to the Gilded Age magnificence that its creators had intended.
2014: Curio - A Collection by Hilton was founded on June 2, 2014.
2016: A replica of the original Hotel Saranac sign that towers high above downtown Saranac Lake is installed on top of the hotel.
2017: Hotel Saranac joins Hilton's Curio Collection.
2017: Grand reopening of the iconic Hotel Saranac.
Hotel Saranac, Curio Collection by Hilton, a member of Historic Hotels of America since 1998, dates back to 1927.