Inn at Perry Cabin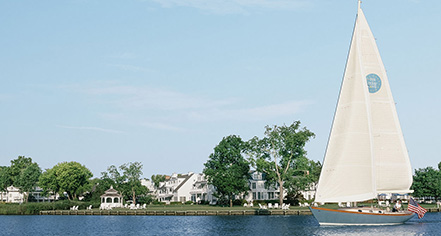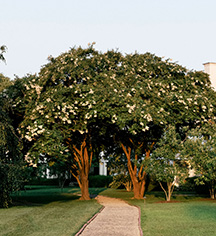 Local Attractions
This peaceful Chesapeake waterfront escape, with its rich history, blends heritage and culture. The Inn at Perry Cabin is perfectly situated for guest to immerse themselves in Maryland's Eastern Shore. The historic town of St. Michael is easily accessible to the Inn, and St. Michaels' Talbot Street is lined with colorful shops, antique stores, and colonial architecture.
Classic Motor Museum
The exhibit at the Classic Motor Museum in St. Michaels includes excellent examples of Pre- and Post-WWII classic automobiles, mid-century muscle cars, unique cars, and cars with an unusual history. The museum offers a rotating eclectic collection of historic vehicles. All ages will enjoy the extensive range of model cars and climbing aboard the 1931 American LaFrance fire truck.
The Cannonball House
The Cannonball House in St. Michaels is a historic house built in the early 19th century. The Federal-style house is a side-hall double-parlor design on a corner lot, built for shipbuilder William Merchant. It is historically notable for an 1813 event in the War of 1812, in which the British fleet bombarded St. Michaels, leaving a cannonball embedded in the house. The site has been added to the National Register of Historic Places, and is located in the St. Michaels Historic District.
Chesapeake Bay Maritime Museum
This museum is home to a collection of Chesapeake Bay artifacts, exhibitions, and vessels. This 18-acre interactive museum was founded in 1965 on Navy Point, once a site of seafood packing houses and docks. The museum houses the world's largest collection of Chesapeake Bay boats, and offers year-round educational seminars and workshops.
St. Michaels Museum
Tourists and residents alike enjoy the museum for the vivid interpretation of St. Michaels' culture and history, including historic artifacts and a continuing calendar of dynamic programs and activities. The museum consists of three 19th century buildings located on St. Mary's Square.
The Talbot Historical Society
From exhibits to educational programs and special events, the Talbot Historical Society is the leading resource for discovering Talbot County's past. The Historical Society's campus is located in downtown Easton, in the heart of beautiful Talbot County. The society's museum and historic houses surround award-winning gardens, maintained by the Talbot County Garden Club. The Historical Society features an artifact collection, a document archives, and a photograph collection.
Eastern Shore Brewery
The oldest brewery on the Eastern Shore of Maryland, this eclectically decorated meeting place in St. Michaels has an old world feel. With a large bar, ample table seating, and an outdoor area, the pub offers casual fare and good beer. This brewery prides itself on quality not quantity, and strives for the perfect pint.
Lyon Distilling Company
Lyon Distilling Company is a micro distillery located in St. Michaels. Founded in 2012, the distillery launched with a signature line of rums paying tribute to the rich, spirited traditions of the Eastern Shore. Hand-crafted from start to finish, the distillery aims to create distinctly American spirits