Inn at Willow Grove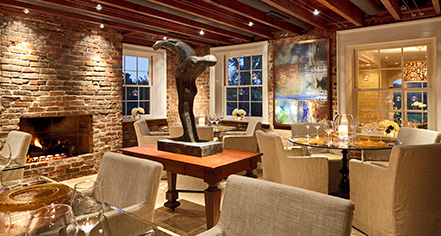 Dining
Vintage Restaurant
The Forbes Travel Guide Four Star-rated Vintage Restaurant features regional American cuisine "with a twist" from menus that change regularly to showcase the freshest flavors of the seasons, sourced locally from Central Virginia's farmland. Serving lunch, dinner, gourmet Pub fare, a decadent Sunday Brunch, Gourmet Tapas Wednesdays, and special menus for holidays and celebrations, Vintage Restaurant makes every day a special occasion.
Vintage Restaurant enjoys a home at the garden level of the historic Manor House at the Inn at Willow Grove. In addition to the Pub and main dining room, the restaurant features more intimate settings, including the Chef's Table, the Sun Room, and The Hall.
Gourmet Tapas Wednesday
Bite-sized portions from the seasonal menus starting at just $5 a plate.
The Weekly "Three on Thursday" Chef's Tasting
A prix-fixe menu with three gourmet courses for just $29.95 every Thursday
Hours of Operation
Monday & Tuesday, closed
Wednesday & Thursday, 3:00 p.m. – 9:00 p.m.
Friday & Saturday, 11:30 a.m. – 10:00 p.m.
Sunday, 11:00 a.m. – 2:00 p.m. (Brunch service) | 5:30 p.m. – 8:00 p.m. (Dinner service)