Inn at Willow Grove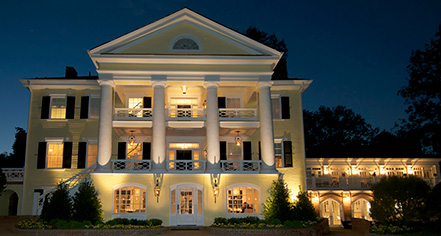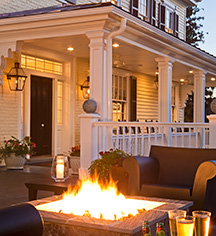 Local Attractions
Nestled in the foothills of the Blue Ridge with its extraordinary beauty, the Piedmont Area of Virginia is a premier destination for regional and international visitors. Steeped in history, this picturesque region boasts a wide assortment of places to visit and activities that will satisfy the most discerning visitor. Try fishing or kayaking on the numerous lakes, rivers and streams. Wander the largest corn maze on the East Coast. Enjoy horseback riding and hot air ballooning. Tackle hiking on the many scenic trails, biking on the most beautiful of Virginia By-Ways, or just playing a round of golf. History lovers will find a treasure trove of places to visit: Three Presidential Mansions (Madison's Montpelier, Jefferson's Monticello, and Monroe's Ash Lawn-Highland), 10 Civil War Battlefields and exceptional museums.
Montpelier
Home of James and Dolley Madison and site of the Montpelier Hunt Races.
Monticello
Primary plantation of Thomas Jefferson, the third President of the United States.
Shenandoah National Park/Skyline Drive
National scenic byway known for year-round spectacular panoramic views, hiking, fly fishing, and wildlife.
The Exchange Hotel & Civil War Museum
This historic hotel was a triage center and hospital for Civil War soldiers, and the museum focuses on the medical history and practices of Civil War surgeons. Not for the faint of heart, evening ghost tours are sometimes available. The Exchange Hotel also boasts one of the best collections of authentic Civil War uniforms.
Barboursville Vineyards
Three great destinations in one historic state. Virginia's most honored winery, creative Northern Italian dining, and Historic Landmark Ruins designed by Thomas Jefferson.
Early Mountain Vineyards
This Madison County winery is conveniently located the heart of the Monticello Wine Trail. In addition to Early Mountain's estate produced wines, there is a curated selection of the best Virginia wines from other wineries, along with rotating featured selections.
Ducard Vineyards
Nestled at the eastern edge of the Shenandoah National Park in the shadow of Old Rag Mountain and White Oak Canyon, Ducard Vineyards is best described as a "hobby gone wild." Open to the public, with a gorgeous new tasting room at the vineyard site. This winery is pet-friendly.
Horton Cellars
Taste naturally acclaimed wines in this old-world Tudor winery. Over 30 wines include Marsanne, Viognier, Petite Manseng, Chardonnay, Mourvedre, Cabernet Franc, Tannat, Malbec, Syrah, Nebbiolo, Pear, Peach, Strawberry, Raspberry, Blueberry, and Blackberry.