InterContinental Mark Hopkins Hotel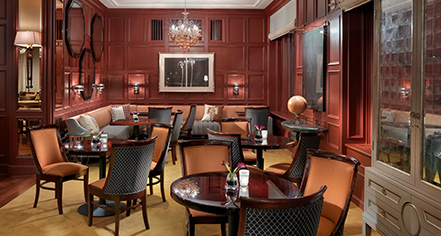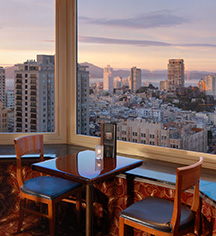 Dining
Located on the 19th floor of the InterContinental Mark Hopkins, the world-renowned Top of the Mark sky lounge affords a wraparound vista of San Francisco, including views of the magnificent Golden Gate Bridge, stunning Marin Headlands and breathtaking city lights, as well as familiar tourist draws such as Alcatraz and Fisherman's Wharf.

Famed for its 100 Martinis menu, the sky-lounge is open nightly for cocktails and light dining and features live entertainment most nights. It also offers breakfast, lunch and afternoon tea Monday through Saturday and brunch on Sundays.
In 1939, when owner George D. Smith decided to convert the 19th-floor penthouse apartment of his Mark Hopkins Hotel into a cocktail lounge, he wasn't completely convinced people would ride an elevator 19 floors to have a drink and look at the view. So he installed a dance floor and hired a band. A few days after the May 11 opening of the Top of the Mark, he had to cover the dance floor to make room for the crowds that were lining up for hours just to get inside. A stunning and immediate success, the Top of the Mark continues to draw crowds, locals and visitors alike.
During World War II, servicemen would buy and leave a bottle in the care of the bartender so that the next soldier from their squadron could enjoy a free drink, the only requirement being that whoever had the last sip would buy the next bottle. The soldiers gathered before shipping out for one last toast to the Golden Gate Bridge, believing that the bridge was good luck and would bring them home. As they sailed off under the Golden Gate, wives and sweethearts would draw together in the lounge's northwest corner, where they would tearfully gaze out the windows. This corner became known as the "Weepers' Corner."
Since the day it opened, many celebrities and dignitaries have enjoyed the Top of the Mark's extraordinary views, including: Herbert Hoover, Dwight Eisenhower, Elizabeth Taylor, Elvis Presley, Judy Garland, Michael Jackson, Prince Edward, Prince Charles, Brad Pitt, Christian Slater, Jeff Goldblum and Robin Williams, to name a few. Even the famous John Barrymore made his way to the Top, just to show his pet monkey the view (and creating quite a stir).
Today, the Top of the Mark has become a "must-see" destination for visitors from all over the world who come for the breathtaking views of San Francisco and the Bay, the Martinis, and perhaps even for a rendezvous with nostalgia.