Island House Hotel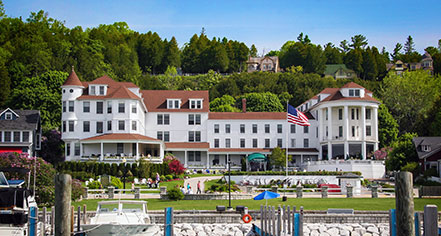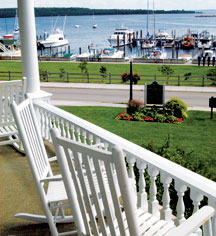 Overview
Island House Hotel, Mackinac Island's most historic hotel, offers waterfront views, the ideal location to downtown, & modern amenities with cozy, old-world charm.
The Callewaert family remains committed to enhancing the guest experience by adding contemporary conveniences to Island House Hotel while conscientiously preserving the allure of its historic ambiance, serving to maintain Mackinac Island's oldest operating hotel, a member of the Historic Hotels of America, a designated State of Michigan landmark and the only hotel located within the boundaries of Mackinac Island State Park.
Enjoy a pleasant rest in one of 94 freshly decorated air-conditioned guest rooms, all with private bathrooms. Experience extraordinary culinary craftsmanship at one of our two onsite restaurants, 1852 Grill Room & Ice House BBQ. Take a dip in the heated indoor pool, soak in the indoor/outdoor hot tub, or rent bikes for island adventures. Far enough from the downtown hustle to enjoy the sounds of horseshoes on the street, & watch freighters glide through the Straits of Mackinac, yet just a short walk to Mackinac Island's most popular shopping, dining, attractions, activities, & nightlife. Whether lunch in the garden, afternoons on the porch watching bikes, boats, and buggies pass by, dinner in the elegant dining room, or evenings toasting s' mores overlooking the harbor, Island House Hotel offers the complete Mackinac Island experience. Open May through October, there are several packages, specials, & events to plan your perfect island getaway.
Island House Hotel recently completed a multi-million-dollar renovation. Guest rooms debut with a fresh coastal casual décor presenting furniture and lighting upgrades, hardwood flooring, USB charging stations, high-speed WIFI, air conditioning. On the patio overlooking Mackinac Island State Park, a second hot tub was added the Ice House Bar & BBQ gardens, and tented deck expanded.
Island House Hotel, a member of Historic Hotels of America since 2005, dates back to 1852.
The Island House was purchased by Captain Henry Van Allen, who moved the hotel approximately 300 feet offshore to its present location.
Original Property Opened: 1852
Historic Hotels of America toll-free reservations number +1 800 678 8946

Location
6966 Main St
Mackinac Island, MI 49757

Check-in time: 3:00 p.m.
Check-out time: 11:00 a.m.



Hotel Amenities & Policies
Accessible Rooms: Accessible rooms are available. Please notify request at time of booking.
Age Requirements: Guests are required to be 21 years or older with photo identification to reserve a room and check-in.
Cancellations Policy: There is a $25 fee for cancellations made between the time of reservation and seven days prior to scheduled arrival. Reservation cancellations less than seven days prior to the arrival date and no-shows forfeit the full deposit.
Cribs and Pack-in-Plays: Available upon request.
Deposit: Two-night deposit.
Early Check-In/Late Check-Out: Available, depending upon availability. Not guaranteed.
Extra Person Fees: Fees vary, dependent on type of package booked.
Hotel/Resort Fees & Taxes: Taxes: 16%.
Occupancy Restrictions: Varies by room type. The largest unit available on-property can accommodate eight (8) people.
Parking: No cars allowed on island. Ample parking is available at all mainland ferry docks. All ferry lines offer complimentary outdoor parking. Indoor and valet parking are available for nominal charges.
Payment: All forms of payment are accepted. Payment is required at time of booking. Visa, MasterCard, Amex, and Discover are accepted.
Pet Policy: Service animals allowed: Please contact hotel. Pets allowed: No.
Rollaways: Not Available.
Smoking Policy: Non-smoking property.
The above list may not be comprehensive and information is subject to change without notice. Fees and deposits may not include tax. Taxes, fees, deposits, and policies are subject to change without notice.nImage Credit: ©Rashad Ashurov/Shutterstock
Industry & Upheaval, 1849 ~ 1859
Island House Hotel, Mackinac Island's most historic hotel, offers waterfront views, the ideal location to downtown, & modern amenities with cozy, old-world charm.
Learn more about the History of Island House Hotel .