Keswick Hall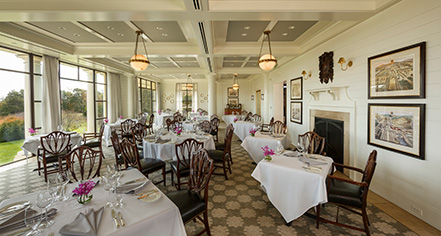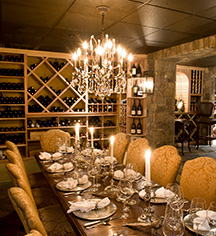 Dining
Fossett's
Fossett's is the signature restaurant with elegant floor-to-ceiling windows framing spectacular golf course views. It was named for Edith Fossett, Jefferson's head cook during his 16 years of retirement at Monticello. Her classical training was necessarily combined with the use of local meats, cheeses, and produce, creating a culinary style that Keswick's chef continues to emulate. The carefully tended on-site Chef's garden supplies an abundance of heirloom herbs and vegetables that consistently enhance the entrees and side dishes.
Hours of Operation
Breakfast: 7:00 a.m. – 11:00 a.m.
Brunch, Sunday: 12:00 p.m. – 2:00 p.m.
Dinner, Wednesday – Sunday: 6:00 p.m. – 9:30 p.m.
Villa Crawford
Historic Villa Crawford offers intimate seating in the Villa Crawford Bar, the Library, the Snooker Room, and on the Terrace overlooking the resort's exquisite horizon pool. Expansive terraces share the lovely, expansive golf course view with Fossett's, and fireside dining is available in chillier weather. Villa Crawford Bar offers signature drinks, wine tasting, its own a la carte menu, and a buffet lunch, served Monday through Friday. Daily options for dinner include both the Villa menu and the Fossett's menu.
Hours of Operation
All Day Dining: 11:00 a.m. – 11:00 p.m.
Lunch Buffet, Monday – Friday: 12:00 p.m. – 2:00 p.m.
Villa Crawford Bar Menu: 5:00 p.m. – 11:00 p.m.
Treble
This intimate, exclusive wine cellar, Treble, is perfect for small groups, special occasions, and private parties of up to 12, where diners are surrounded by thousands of bottles of wine, gorgeously presented. One-on-one menu consultation with the Executive Chef and Sommelier, and a designated service staff, are provided to customize every detail of the evening to ensure a first-rate experience.
Club Grill
Offering a casual atmosphere and expansive views of the new Pete Dye golf course, the Club Grill is a perfect place to relax with family and friends after a round of golf, a poolside siesta, or an invigorating tennis match. The outdoor terrace area overlooks the spectacular new driving range and golf practice area, with the Southwest Mountains as the backdrop. One of the more popular endeavors for guests is to unwind poolside with a handcrafted cocktail, local draught beer, or a glass of crisp white wine, chilled to perfection. Finally, Sundays are sacred at the Club Grill thanks to the Build Your Own Bloody Mary and Bellini Bars that are thoughtfully paired with the Sunday Brunch menu.
Hours of Operation
Lunch, Wednesday – Saturday: 11:30 a.m. – 3:00 p.m.
Dinner, Wednesday – Saturday: 5:30 p.m. – 9:00 p.m.
Pool and Bar Menu, Wednesday – Saturday: 11:30 a.m. – 9:00 p.m.
Brunch, Sunday: 11:00 a.m. – 4:00 p.m.
Pavilion Pool Snack Bar
Open seasonally, the Pavilion Pool Snack Bar offers a variety of quick and healthy poolside menu options for children and adults, as well as delightfully refreshing drinks.
On-Course Beverage Cart
The on-course beverage cart features a full selection of beer, spirits, and non-alcoholic beverages as well as sandwiches, wraps, hot dogs, and a variety of quick snack items.