Keswick Hall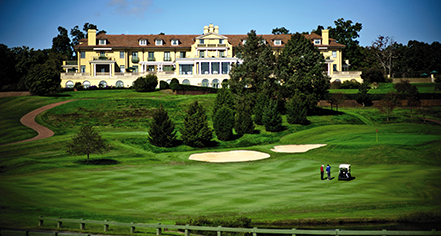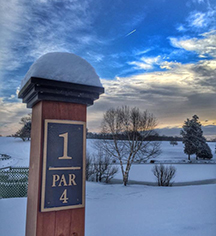 Golf
Keswick Golf Club has always boasted the classic country club layout — a wonderful blend of tall, ancient oaks, grassy wetlands, and spectacular mountain views. Fred Findlay, Scottish immigrant and renowned designer of numerous courses in central Virginia, built Keswick's original course, which opened in 1949. Findlay recognized that "the lay of the land is wonderfully suited for excellent golf holes with slightly rolling fairways, coupled with perfect dog leg bends." Twice, in 1969 and 1970, the Keswick course was the site of the Virginia State Open Championship.
Two decades later, the course was redesigned by Arnold Palmer, global golf icon, using the "good bones" of the Findlay course along with its established layout and old growth trees combined with re-contouring and better turf grass varieties. Palmer's aim was to "combine a little of the links atmosphere with the country club golf." The course re-opened in 1992 as a par 71 of just over 6000 yards and became Audubon certified in 2002, exceeding standards set for environmental stewardship through prudent use of resources and excellent accommodations for wildlife, and becoming one of only thirty courses in Virginia to this day to have achieved such distinction.
Pete Dye, the most highly esteemed golf course architect and the catalyst behind modern course design, has created a new, exceptional, world-class golf experience at Keswick Golf Club. Old-world architectural charm and the use of fine gold fescues give the course a distinctive British Isles feel, with a flatbed railroad car bridge on Hole 17 and beautifully placed pot bunkers throughout adding to the unique character. Greens are approachable through the air or on the ground and are well bunkered on one side or the other. Players will also notice the ball's "land, release and roll" links-style reaction. The course is designed to play fast, but five tee locations ranging from 4800 yards at the front to more than 7000 yards at the back create a challenging and enjoyable experience for golfers of all ability levels. Guests can play to their ability and have an enjoyable experience doing so.
Full Cry
Full Cry, Keswick Hall's new Pete Dye golf course, takes its name from part of a longstanding tradition in Keswick that harks back to its colonial roots. The Keswick Hunt Club was formed in 1896, and is one of the longest continually running foxhunting clubs in the United States. In American foxhunting (in contrast to its British counterpart) the fox is not harmed but rather chased over hill and dale until the horses, riders and hounds have succeeded in "running him to ground" (getting him to go into a hole). Full Cry technically refers to the baying of the hounds when they join their voices in pursuit of the fox, chasing him with determination, high energy, and eagerness – a very active and exciting part of the hunt. Golfers feel a similar exhilaration and satisfaction when they "hole out" (get the ball to go into the hole), and are fully engaged in the pursuit of their own goal. The main difference is that in foxhunting, the hope is that the fox will lead the pack and their mounted followers on an extended chase; naturally in golf, the fewer shots it takes to hole out, the better. Full Cry's fox/1912 logo reflects both the fox on the move during the hunt and the year Villa Crawford, the historic wing of the hotel, was built.
Audubon Certification
Since 2002, Keswick Hall's golf course has been designated as a "Certified Audubon Cooperative Sanctuary," one of only thirty courses in the Commonwealth of Virginia to be recognized for its high degree of environmental stewardship. Specifications of this achievement include protection of natural resources, integrated pest management practices, and consideration of and accommodations for the area's wildlife. Maintaining this sought-after certification over the years is one example of longstanding commitment to responsible management.
Golf Pro Shop
Keswick's Golf Pro Shop, located in the clubhouse, offers quality golf and casual wear for men and women, as well as exclusive Keswick Hall & Golf Club items. Golf club and shoe rental are available.
Hours of Operation
December – February: 7:30 a.m. – 5:00 p.m.
April – October: 7:00 a.m. – 7:00 p.m.
March: 7:30 a.m. – 6:00 p.m.
November: 7:30 a.m. – 5:00 p.m.