Keswick Hall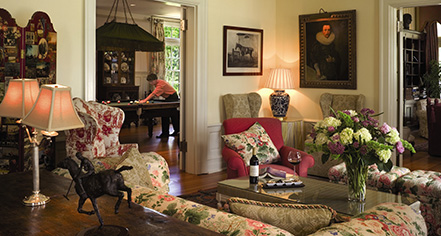 History
The 17-room Villa Crawford, the north wing of Keswick Hall, was built as a private residence in 1912 for Mr. and Mrs. Robert B. Crawford. Designed by prominent local architect Eugene Bradbury to resemble an Italian villa, the 8000 square foot, two-story, stucco-clad, slate-roofed home originally cost $100,000. Room 9 was the original master bedroom, and Villa Crawford Bar was the family dining room. Villa Crawford had five different owners — a full cast of fascinating characters — during its total of 35 years as a private residence.
In 1948, Villa Crawford became the newly formed Keswick Country Club. Over the next 42 years, some periods were very active, some not. At first, Keswick featured three tennis courts and a 100' x 60' oval steel pool overlooking the Fred Findlay golf course. By the late 1960s, membership was greater than 700, and the club boasted ten tennis courts (including three indoor), another pool with a space bubble for winter swimming, ice skating, and a tow rope for skiing. Twice, the Keswick golf course was the venue for the Virginia State Open Golf Championship (1969, 1970). Operations slowed considerably in the 1970s and 1980s and at times ceased altogether. The Four Seasons starring Alan Alda and Carol Burnett was filmed in Villa Crawford in 1980.
The old clubhouse was restored and greatly enlarged in the early 1990s by Sir Bernard Ashley, widower of designer Laura Ashley (who died in 1985). Restoring Villa Crawford to its earlier splendor was an important part of this work, and the architectural integrity of the mansion was painstakingly maintained. All interior spaces were appointed with antiques and original artwork to evoke feelings of warmth, comfort, and elegance. A new clubhouse and Arnold Palmer golf course opened in 1992; the hotel in August 1993. In 2002, the golf course was certified as meeting Audubon standards of environmental stewardship. The infinity edge pool was added in 2003, Fossett's Restaurant in 2004, the Chef 's Garden in 2009, Courtside Vineyard in 2010, and Treble, a private dining wine cellar, in 2011.
As this truly premier property launched into its second century, two major projects affirmed its world-class caliber: Full Cry, the new golf course designed by the legendary Pete Dye, as well as beautifully refreshed guestrooms. Owned since January 2012 by Historic Hotels of Albemarle, Keswick Hall is proud of the authenticity and character that make it unique, and stands ready to create exceptional experiences for guests coming from near and far.

Keswick Hall, a member of Historic Hotels of America since 2015, dates back to 1912.