Many Glacier Hotel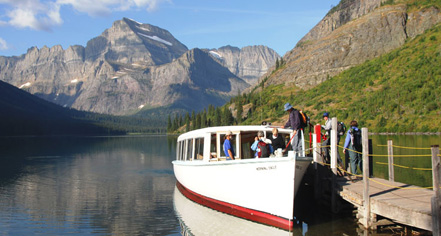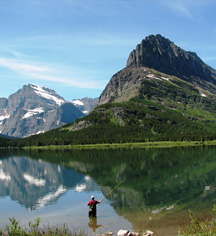 Activities & Events
Grizzly Track Traders Gift Shop
Find the unique souvenir you are looking for in the Grizzly Track Traders Gift Shop at the Many Glacier Hotel. All the latest gifts are featured here including a variety Glacier National Park merchandise.
Heidi's Snack Shop and Espresso Stand
Stop by the snack shop and espresso stand for an array of paperback books, magazines, and newspapers to enjoy with cappuccinos, lattes, or espressos.
David Walburn Entertainment
As Many Glacier Hotel's resident artist, Montana singer/songwriter David Walburn entertains guests weekly, Tuesday through Saturday at 9:00 PM. A family-friendly show, David performs original songs with his guitar and harmonica that tell the story of the early explorers of the Corps of Discovery, the Native Americans, the frontiersmen and artist cowboys, Glacier Park's Going-to-the-Sun Road, The Bear Song, and even his personal adventures as an Alaskan Homesteader.
Boat Cruises
Choose to take one or all four unique boat cruises while vacationing in Glacier National Park.
Horseback Riding
Choose from a great selection of trips that depart from East Glacier or close to Waterton, Alberta.
Fishing - Blackfeet Reservation
Glacier National Park is a prime location for native trout fishing in Montana. Join expert guides and catch giant rainbows in one of the many pristine lakes or even the delicate beautiful brook trout in exclusive spots.
Jeep Tours - Blackfeet Reservation
Enjoy breathtaking views and the possibility to see wild animals including Grizzly Bear, Black Bear, Elk, Moose, Deer, Buffalo, and many others.
For more information about Many Glacier Hotel or to make reservations please visit glaciernationalparklodges.com/lodging or call 1.855.SEE.GLACIER (855.733.4522).