Marriott Syracuse Downtown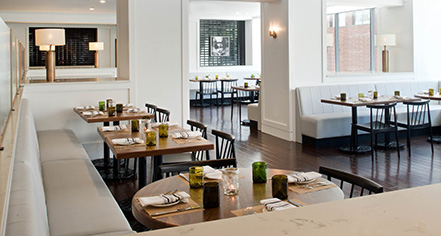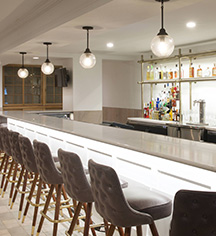 Dining
Inspired by New York's Finger Lakes wine region, Eleven Waters proudly crafts unique local flavors in a modern but rustic bistro setting. Enjoy a thoughtful breakfast in the morning sun, a street side lunch, or pair a Finger Lakes wine with dinner.
Featuring a bar carved into the hotel's historic barber shop, the cocktail menu includes New York spirits such as 1911 Vodka from Lafayette, NY, and Beanball Bourbon from Cooperstown, NY. Cocktails themed with a playful nod to a bygone era such as "The Pompadour" and "The High & Tight" evoke memories of a simpler time when there was a barber shop on every corner, and a speakeasy next door to them. In addition to hand-crafted cocktails, enjoy some of the best local craft beer from Empire Brewing Company, Ithaca Beer Company, and Middle Ages Brewing Company.
However, no bar inspired by the Finger Lakes could ever be complete without wine! And at Eleven Waters, wine will be flowing from the tap. Wine on tap is a burgeoning trend in major cities because the well preserved draft system offers a fresher, more consistent glass, in an eco-friendly vessel. Every entrée on the Eleven Waters menu will be prepared with a Finger Lakes wine pairing in mind for a bonafide Upstate New York dining experience like no other.
The story doesn't end there. The private dining room welcomes private parties to dine, accompanied by the one-of-a-kind antique wine cabinet feature. The now famous cabinet was uncovered during the restoration project and painstakingly restored board by board by Harden Furniture, located in McConnellsville, New York. Dining alongside this massive, historic cabinet is a wonderful way to celebrate the fine craftsmanship that can be found all across this great state of New York.
Eleven Waters' Executive Chef Thomas Kiernan has been in kitchens since he was 14 years old. His experience is varied and extensive, including New York City, the waterfront of Boston, and the Caribbean. Well trained in the teachings of the masters such as Escoffier & Careme at the Culinary Institute of America, he came into his own during the 1980s with the advent of the "New American Chef." Over the last decade, Kiernan has worked vigorously to promote the local, sustainable bounty available in Central New York. Working with local farmers, producers, and processors is a significant aspect of his kitchen philosophy. Kiernan recently participated as a guest chef at the James Beard House in New York City for the famed Empire State Feast and is the 2015 American Culinary Federation Chef of the Year for the Syracuse chapter.
Eleven Waters is opened 7 days a week; Monday to Friday, from 6:30 a.m. - 10:00 p.m.; Saturday and Sunday, from 7:00 a.m. - 10:00 p.m.