Mast Farm Inn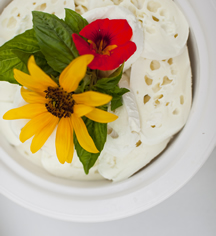 Dining
Gourmet organic farm-to-table fine dining. "Slow Food In A Fast World."
What Mast Farm Inn offers is gourmet slow dining of extreme quality and freshness; a meticulous cuisine prepared with mindfulness, aware of the mountain region's heritage, and showcasing the high quality of the natural ingredients, with a level of care and personal service second to none.
Mast Farm Inn's restaurant, Simplicity at The Mast Farm Inn, was top ten in 2010, 2nd place in 2011, and currently one of top twenty-five finalists for The Best Dish in North Carolina Award 2012. The Best Dish in North Carolina Award is North Carolina's Official Restaurant Award, presented every year by The North Carolina Department of Agriculture & Consumer Services and sponsored by Our State Magazine.
Executive Chef Andrew Long, a graduate of Johnson & Wales University in Charleston, South Carolina, came to the Inn from Storie Street Grille in Blowing Rock, North Carolina, where he built a solid reputation over seven years for serving creative cuisine focused on high-quality local products. Andrew showcases the region's sustainable farmers and producers with his style of French rooted, new Southern cuisine, very much in the style of southern culinary master Frank Stitt. Mast Farm Inn also features a specialized beverage menu emphasizing North Carolina beverages, craft beers, wines, and moonshines.